Spence Diamonds Gives Back: Supporting imagine1day in Ethiopia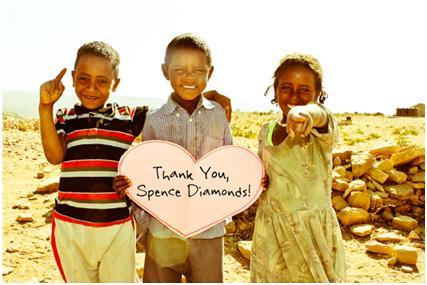 Spence Diamonds is honored to make a financial commitment of $200,000 to support two of imagine1day's key initiatives in Ethiopia: The Graduate Fund high school scholarship program and three holistic education projects. Spence Diamonds' commitment spans the next 3 years. imagine1day is a cause committed to the next generation of leaders who will carry Africa into a new era of prosperity. This will be accomplished via providing quality education for all Ethiopians funded free of foreign aid by 2030.
"We are grateful to our guests who honor Spence Diamonds with their business. Due to our valued guests' support, we are fortunate in fulfilling our vision of uplifting people to be more successful than ever before. Giving back to the community is extremely important to us." says CEO, Sean Jones. "It is an honor to have the opportunity to support imagine1day in the amazing work they are up to in Ethiopia."
"On July 18th, we released communication through our social channels to announce Spence Diamonds' commitment to imagine1day over the next three years. We are so grateful to you," shares Sapna Dayal, Executive Director of imagine1day.
Spence Diamonds will support 105 of Ethiopia's brightest leaders in starting their high school journey (35 students per year for the next 3 years). By choosing to invest in imagine1day's innovative high school scholarship program, Spence Diamonds will make progressing to high school possible for students whose families wouldn't otherwise have the financial capacity to keep their children in school. In addition to the costs of Grade 9 being covered, the students' families will be receiving a seed loan and business skill training. These families will generate the necessary profit to fund the costs associated with Grades 10 through 12, with the tangible incentive to keep their child in school being a forgiven loan and newfound financial opportunity. Over 3 years, imagine1day will also invest Spence Diamonds' contribution in three holistic primary school projects. More information on Spence Diamonds' support of imagine1day and the organization, imagine1day, please visit
www.imagine1day.org/spence-diamonds.
Spence Diamonds' core belief is that the company owes every ounce of success to the communities in which they live and work. Spence Diamonds supports various organizations, as their goal is simply to relieve hardship and suffering for those less fortunate. To that end, the organization is proud to have donated $1,047,270 in cash and diamond jewelry to various charities around the world since 2007 to present day in 2013.
Founded in 1978, Spence Diamonds has retail locations across Canada in Vancouver, Calgary, Edmonton and Toronto. Spence Diamonds' unique approach to business allows its customers to freely try on thousands of different ring designs from their open jewelry showcases, in a relaxed and non-intimidating environment. Through the company's high degree of vertical integration, Spence Diamonds is proud to offer its customers the best possible value and the industry's most comprehensive guarantee. More information on Spence Diamonds, Canada's largest Canadian-owned diamond specialist, can be found at
www.spencediamonds.com
.