Tappan Zee Boat Crash Survivor, Daniel DiIorgi, Represented by Parker Waichman LLP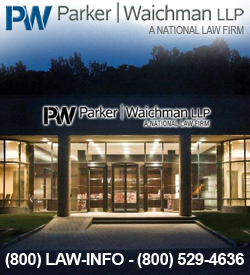 August 3, 2013 - Parker Waichman LLP, a national law firm dedicated to protecting the rights of those who have been injured due to the negligence of others, is representing one of the six friends who were in a Stingray speedboat that struck a construction barge just south of the Tappan Zee Bridge on the night of Friday, July 26, killing two of them. Currently, the firm is investigating questions regarding the visibility of the barge.
A young woman set to be married two weeks after the accident, and her fiancé's best man, were both killed in the crash; the four surviving victims were taken to hospitals. The driver of the boat has been accused of operating the vessel while intoxicated and was charged with vehicular manslaughter and vehicular assault.
"We are actively investigating the barge's visibility and lighting on the night of this tragic accident," said Nicholas Warywoda, an associate at Parker Waichman LLP. "Our client, Daniel DiIorgi, has stated that he didn't see the barge before impact, nor did he see the barge after the crash. The fact that Mr. DiIorgi did not see the barge at any point before and after impact indicates that lighting on the barge was not adequate."
The barge, which is actually three barges lashed together, was being used in the construction of the new Tappan Zee Bridge, a $3.9 billion project just underway.
About Parker Waichman LLP
Parker Waichman LLP is a leading personal injury law firm that represents plaintiffs nationwide. The firm has offices in New York, New Jersey, Florida and Washington, D.C. For more than two decades, Parker Waichman LLP has assisted thousands of clients who have been injured due to the negligence or wrongdoing of others. For more information on Parker Waichman LLP, please visit:
www.yourlawyer.com
or call 1-800-LAW-INFO (1-800-529-4636).
Email Parker Waichman LLP