Digi-Sign Provides Certificate Authority for Specialist Industry Services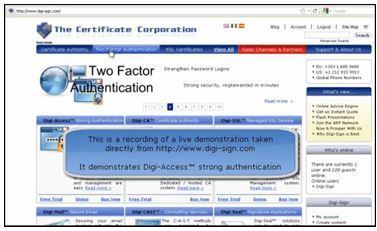 Jersey City, NJ – Digi-Sign, one of the leading
certificate authority
companies in the U.S. and abroad, also specializes in meeting the demands of online companies serving niche markets. Companies in the gaming industry, travel, and many others that require user authentication, turn to Digi-Sign for comprehensive certificate authority services. Digi-Sign products offered unparalleled security to various aspects of computer mediated communication, so no matter which product the company requires, they will always enjoy the best possible protection.
Among the special industry certificate authority services offered by Digi-Sign are identity and age verification processes. The Global Data Company integrates easily with the company's Digi-CA™ certificate authority for a total identity verification and authentication solution. This is the perfect solution for ensuring compliance to "Know Your Customer" and other important online identity directives. Digi-CA™ also has an application for wireless service providers requiring mobile authentication or mobile phone digital signatures. Using Digi-CA™, the wireless component is provided in two parts.
Niche online industries like gaming and travel also benefit from Digi-Sign's certificate authority services. The company's Cryptomathic ICAO MRTD, machine-readable travel document system for e-passport and national ID cards, allows users to secure travel documents online. In addition to ICAO/MRTD production, this solution can also offer card and document verification. By combining identity and age verification with Digi-ID™ digital signatures Digi-Sign provides a total solution for the online gaming industry that complies with all the current gaming legislation is possible.
Specialty industry clients can learn more about these solutions by downloading a free trial of the certificate authority software on the company's website. Before downloading the free trial, clients can also learn more about the Digi-Sign certificate authority through educational videos that demonstrate many of the features of the digital certificate systems and solutions. These videos are intended to help potential clients achieve a better understanding of how Digi-Sign's digital certificate can be used in an organization to achieve maximum information security.
About Digi-Sign
Digi-Sign is amongst the top ten providers of Digital Certificates in the world. This is evidenced by invitations such as the Department of Defense [DoD] in the US (where only 10 companies were invited to tender for the most recent extension to the DoD PKI); we were awarded the National PKI project for RENIEC, in Peru; the National PKI project for Barbados; the British Library; the pre-qualification of Digi-Sign as the only non-Italian company to participate in the Italian national PKI tender; and many other projects around the world where Digi-Sign is regularly invited to participate. For more information, visit
http://www.digi-sign.com/
or call +1 212 933 9913 in the U.S.