LeadLedger Releases Book on Top Internet Tools & Technologies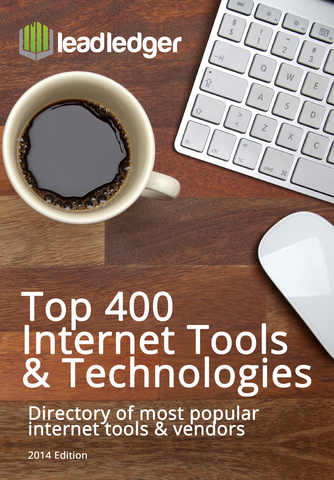 LeadLedger, the popular provider of sales and marketing intelligence & lead generation, today announced the release of its first ever Annual Top Internet Tools and Technologies Directory.
LeadLedger's book fulfills a market demand for an authoritative, objective print directory of internet tools and technologies. The book, "Top 400 Internet Tools & Technologies" contains objective rankings created through the use of a proprietary web crawling and vendor identification system.
This book contains rankings specific to top internet technology categories such as ad servers, web analytics and conversion optimization, as well as marketshare information for over 400 companies. With information on company clients for technologies ranging from Adobe Analytics to Zendesk, LeadLedger's new directory provides a comprehensive resource for sales, marketing and investment professionals.
Alicia Salsbury of LeadLedger spoke of the release, "This new book provides an invaluable resource to anyone who needs an objective, data-driven technology ranking resource to guide decision making."
The new directory will be available in print and on the Kindle e-reading device. The book can be purchased via select physical distribution partners, via
Amazon
and from LeadLedger's website at
http://www.leadledger.com
.
Publication Date: 7/29/2013
ISBN-13: 978-0615846651
ISBN-10: 0615846653
Trade Paperback; $249.99; 442 pages
About LeadLedger
LeadLedger is San Francisco based startup focused on digital competitive sales intelligence. The company provides sales leads and competitive intelligence spanning dozens of verticals and thousands of businesses. LeadLedger boasts a client base with a market cap of over $400BN - ranging from SMBs to Fortune 500 companies.
At the core of LeadLedger is a proprietary technology platform that evaluates millions of sites, known client lists, and other third party data sources to understand the vendors and tools utilized by companies. With LeadLedger, sales executives can identify qualified prospects, digital executives can monitor market trends, and professionals throughout an organization can understand competitor technology usage.
Alicia Salsbury
LeadLedger
4158131001