Market Watch: Home Depot® & Menards® Now Offers Unelko's REPEL™ Glass and Surface Cleaner & Repellent…Undoubtedly The World's Best Cleaner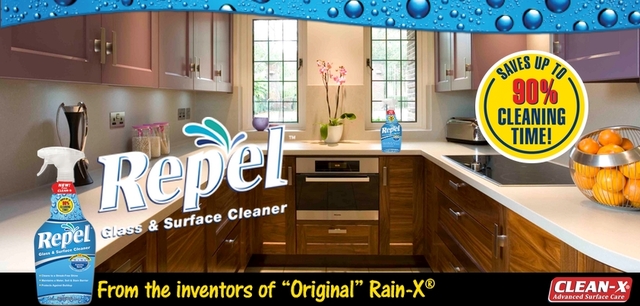 (SCOTTSDALE, Arizona) - Unelko Corporation, a leading manufacturer of high performance cleaners, water repellents and protective coatings, has just announced that the major retailer Home Depot is now carrying its REPEL™ Glass & Surface Cleaner. Unelko's CleanX® brand has earned worldwide respect for nano-coat technology yielding exceptional performance with earth friendly products. Visit
www.cleanxproducts.com
for more information.
The product is currently available at all Home Depot stores across Arizona, Nebraska, New Mexico and will soon be carried in stores located in Colorado and Wyoming. Nationwide, shoppers may also purchase REPEL through Home Depot's website at
www.homedepot.com
.
As the world's first "dual action" cleaner and repellent, REPEL cleans glass to a streak-free shine while utilizing 3D nano-coat technology which protects the glass with an ultra-thin protective coating. This barrier technology helps dramatically reduce the adhesion and build-up of soil and grime, which means future glass cleanings will be that much quicker and easier.
"REPEL lives up to its name by literally preventing hard water spots, oil, grime, fingerprints and more from sticking to all sorts of glass, including windows, mirrors, shower doors, and even electronics. If it's made of glass and can get dirty, REPEL is the perfect solution," said Steven Ohlhausen, President of Unelko Corporation.
About Unelko Corporation:
For over 40 years, Unelko Corporation has been a leading manufacturer of high performance cleaners, water repellents and protective coatings for the automotive, household, commercial glass, industrial, and technical markets. One of Unelko's acclaimed inventions is The Invisible Shield®, the world's first long-lasting and invisible "non-stick" coating that helps to preserve, enhance and prevent soiling of all glass, porcelain and ceramic surfaces. The company is also well-known for inventing the Rain-X® line of automotive products for improved visibility and driving safety. For more information, please like Clean-X Advanced Surface Care on
Facebook
, follow them on Twitter@
CleanXHome
, connect with them on Pinterest/
CleanX
, or visit
www.unelko.com
.
Email Clean-X Advanced Surface Care