Market Watch: Home Depot® & Menards® Now Offers Unelko's Eliminate® Shower, Tub & Tile Cleaner and Eliminate® Grout Cleaner & Sealer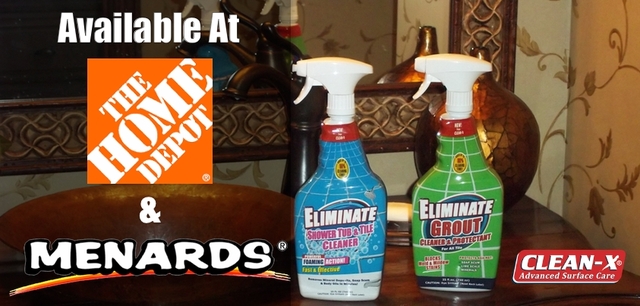 (SCOTTSDALE, Arizona)- Unelko Corporation, a leading manufacturer of high performance cleaners, water repellents and protective coatings, has just announced that the major retailer
Home Depot
& Menards is now carrying its
Eliminate® Shower, Tub & Tile Cleaner
and
Eliminate® Grout Cleaner & Sealer
. Both products are well-known in the cleaning industry for their effectiveness at cleaning tough bathroom stains of all kinds, from a wide variety of surfaces.
Eliminate Shower, Tub & Tile Cleaner effectively does away with everyday dirt, grime, scale, calcium, hard water spots, soap scum and more on showers, bathtubs, tile and sinks. The product is also safe and effective to use on glass surfaces, fiberglass, clear plastics, ceramics, aluminum, and many others. The cleaner features a fresh and pleasant-smelling cherry scent and is safe for both the person using the product and the environment.
Eliminate Grout Cleaner & Sealer cleans tile and grout safely and effectively, but without the use of harsh bleach. It tackles the toughest stains, mold and mildew and soap scum with ease, helping to clean even the dirtiest grout while simultaneously sealing and protecting the surfaces against future build up and grime. Eliminate Grout Cleaner Sealer can be used on most surfaces in the bathroom, including showers, tubs, sinks, tile and more, and does not have an unpleasant or strong odor.
"These two products from our popular line of Eliminate cleaners are a true dynamic duo in the bathroom," said Steven Ohlhausen, President of Unelko Corporation. "Here in the Southwest we often have a problem with hard water causing really hard-to-clean soap scum and other stains in the bathroom. Both of these products will help eliminate all types of stains and grime, and will help keep bathrooms sparkling clean and sanitary."
About Unelko Corporation:
For over 40 years, Unelko Corporation has been a leading manufacturer of high performance cleaners, water repellents and protective coatings for the automotive, household, commercial glass, industrial, and technical markets. One of Unelko's acclaimed inventions is The Invisible Shield®, the world's first long-lasting and invisible "non-stick" coating that helps to preserve, enhance and prevent soiling of all glass, porcelain and ceramic surfaces. The company is also well known for inventing the Rain-X® line of automotive products for improved visibility and driving safety. For more information, please Like
Clean-X
on Facebook, follow them on Twitter@
CleanXHome
, connect with them on Pinterest/
CleanX
, or visit
http://www.unelko.com
Email Clean-X Advanced Surface Care