Berriz Design Now Offering 100% Financing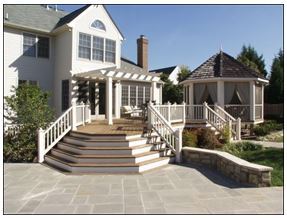 Burke, VA - Berriz Design, a premier home remodel and design firm based in the Washington D.C. and Northern Virginia area, is excited to announce the availability of 100% financing for customers. Now, there's nothing standing in the way of luxury homeowners who want to realize their visions of a beautiful luxury home and fine living experience.
Despite the fact that remodeling as an investment is often a net positive on the value of a home, projects can sometimes be difficult to pay for, which is why financing is so important. What makes Berriz special is the fact that it can now help finance up to 100% of a customer's project. In the past, it was usually necessary for luxury remodel customers to apply for a second mortgage, a home equity line of credit, or even an unsecured loan to cover Berriz Design's fantastic custom design and remodeling services. Today, customers can cover small and large projects with 100% financing, allowing them to focus on the results they want.
Berriz Design's products and services are targeted to luxury homeowners, and include everything from
kitchen remodel
and fountains to custom decks and outdoor kitchens, as well as custom design and consulting services. Most importantly, the philosophy behind Berriz Design is on quality of life for its customers. According to a spokesperson for the company, "We don't just aim at remodeling your home-our goal is to provide you with a luxurious experience that you will enjoy for years to come." The company makes a difference in the lives of its customers by helping them secure the good life.
About Berriz Design
For more than two decades, Berriz Design has worked hard to supply the Northern Virginia and Washington D.C area with unparalleled quality in home remodel, build, and design services. Berriz Design distinguishes itself from other Northern Virginia remodeling firms by offering truly custom outdoor and indoor remodeling solutions tailored to each client's needs, as well as fantastic customer service. Now, with the availability of 100% financing, there's never been a better time to engage Berriz Design for a high-end remodel project.
For more detail please visit,
www.berrizdesign.com
.