PS Janitorial Highlights Its 26" Advance Convertamatic Scrubber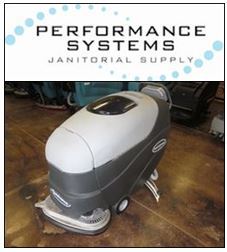 Vinton, IA - PS Janitorial, one of the leading online vendors of quality used janitorial equipment, is excited to showcase its 26" Advance Convertamatic Scrubber, which is available for purchase on its website. The durable auto floor scrubber is easy to use and versatile, making for great results at any facility.
The primary reasons for people to purchase high level cleaning equipment are for image and for maintenance. The fact is, PS Janitorial's
cleaning machines
are designed to accomplish both of these goals for its customers, and the 26" Advance Convertamatic Scrubber is no exception. It can accommodate all kinds of surfaces, such as VCT, Cement, and marble, ensuring that every customer's facility is well maintained. In addition to maintaining the facilities, the floor scrubber does a great job of keeping floors looking attractive, which is essential for any business or organization.
PS Janitorial has an impressive inventory of quality janitorial equipment at unbeatable prices. According to a spokesperson for the company, "We have what your facility needs to looks its best. We take great pride in every machine we sell, and back it up with a solid warranty." With its 'like it or return it' guarantee, durable like new products sold at wholesale prices, and the best customer service in the industry, it's no wonder so many look to PS Janitorial for their organization's janitorial solutions.
About PS Janitorial
For over three decades, Performance Systems Janitorial has worked hard to offer its customers the widest selection of quality affordable janitorial machines. The company proudly offers refurbished equipment that has been inspected and guaranteed by its trained technicians. Most importantly, the company can sell its janitorial equipment and supplies at half the price of new equipment sold by the competition, which makes it easy for customers to find excellent deals on the highest quality cleaning solutions for their facilities. For more detail please visit,
www.psjanitorial.com
.
Email Performance Systems Janitorial