Insurance For The Uninsured - MiWay Launches Car Insurance That's Affordable to Everyone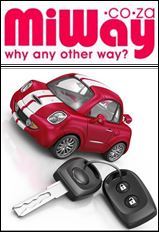 Johannesburg, South Africa - "Historically more than half the privately owned cars on the road have been uninsured, resulting in financial hardship to families that are already strapped for cash when calamity strikes," says René Otto, MiWay CEO. "Statistics indicate that every year, one in four people will be involved in a vehicle accident while one in every two people will experience a collision at least every three years. You can see the effect of being uninsured is devastating."
"Our new product, MiWheels Limited, gives consumers flexibility to insure their car for as much as is affordable – with no excess payable. It's a completely new concept in South Africa."
While there are many insurance products on the market that provide limited cover, most of these fall under the categories of either "third-party, fire and theft" or "total loss". However, MiWheels Limited allows you to select the limit of cover across all risks, based on how much you want to insure the car for and how much you can afford.
"We have evaluated the other products in the market and concluded that some cover is better than no cover at all," says Otto.
Most everyday car accidents result in damages of varying severity, with vehicles still in a repairable state. If you only have third-party, fire and theft cover, you aren't insured for own damage as a result of an accident. If you only have total loss cover, you are only insured for the 15% cases where the vehicle is written-off completely or stolen. With both these products you would have to fork out for the damage to your own repairable vehicle and potentially be financially crippled. With MiWay's new MiWheels Limited, you can insure your vehicle for an amount of your choosing - from as little as R12 000 - at a premium you can afford. In essence, this product insures for the first portion of the damages, up to the limit of cover chosen.
"We anticipate interest in MiWheels Limited from people who have previously been unable to afford insurance, and also by people whose finances have recently come under great pressure due to the increased cost of living," Otto says.
MiWheels Limited is aimed at consumers who have older, unfinanced cars, who have never insured their car before or have previously been unable to afford car insurance. The product is available through MiWay's call centre only, on 0860 64 64 64.
About MiWay
MiWay
is one of South Africa's leading direct, short-term insurance companies. Our business objective is to give our customers great value-for-money insurance products and offer a comprehensive range of short-term insurance products including car insurance, household and homeowners insurance and add-on products like motor warranties and liability cover. MiWay also offers motorcycle insurance and bicycle insurance.
We offer flexible, innovative and affordable insurance that suits the client's pocket providing peace of mind. MiWay also rewards clients with a one-of-a-kind loyalty programme called
MiRewards
. MiRewards is a cash reward paid directly into the bank account of our clients and is given to all clients that have been insured with us for at least 3 years – regardless of whether they have claimed or not.
With a staff complement of over 1000 people, we are committed to providing superb customer service and are transparent in all our dealings with our clients. MiWay has also been voted the best company to work in the 2012 Deloitte Survey.
MiWay offers complete
home and car insurance quotes online
, the ability to earn rewards and save on joining fees by buying car insurance policy online. We also offer self-management of the insurance portfolio without ever having to fill out a form or calling us as well as 24/7/365 lodging and tracking of claims.
Contact MiWay
or call us directly on (+27) 860 64 64 64.
Email MiWay Insurance Limited