New Book Dispels the Myths of Searching Public Records Online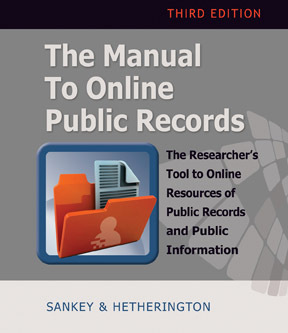 PHOENIX (August 15, 2013) – BRB Publications is proud to announce the release of
"The Manual to Online Public Records"
- the researcher's tool to online sources of public record and public information.
Known for their industry knowledge and teaching, authors Hetherington and Sankey reveal how public records and public record searching websites are not created equal, and teaches how to professionally use government and vendor online resources to efficiently locate, identify and cultivate critical information needed for intelligence gathering and investigation. The Manual begins with a practical yet in-depth lesson on how to evaluate online sites and online vendors, including how to spot 'red flag' sites with little value. Weaving in the authors' personal experiences throughout the Manual, many real-life lessons are imparted. Included are advanced strategies to search Social Network sites for hard-to-find public information
Authors Hetherington and Sankey recently showcased the Manual, now it third edition, at the 24th Annual Association of Certified Fraud Examiners
(ACFE)
Global Fraud Conference. The Manual will also be highlighted at the upcoming 10th anniversary Annual Conference for the National Association of Professional Background Screeners
(NAPBS)
.
About the Authors
Cynthia Hetherington, a licensed private investigator and President of the
Hetherington Group
, is a nationally known speaker and trainer. She is author of Business Background Investigations. Michael Sankey is the founder and CEO of
BRB Publications, Inc.
. and he is author or editor of more than 60 publications including The Sourcebook to Public Record Information and The Public Record Research TIPS Book.
About Facts on Demand Press and BRB Publications, Inc.
Facts on Demand Press is the trade imprint for BRB Publications, Inc. BRB is a leading publisher of legal reference books and web-based content dealing with the policies, privacy restrictions, and access procedures for public records and public information. BRB, now in its 25th year of business, has published more than 150 editions.
Email BRB Publications, Inc