Novedge and 3DA Systems Partner to Distribute 3D PDF Technology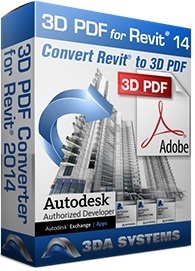 Victoria BC – August 15, 2013
- 3DA Systems, a leading developer of easy-to-use 3D PDF solutions, is pleased to announce that Novedge, the leading online store for design software will now be offering 3DA software products, including
3D PDF Converter for Revit® 2014
.
"We're excited that Novedge, the leading online software store for architects, engineers and other designers, is offering our powerful software," said Michael Schell, President of 3DA Systems. "Novedge has a great reputation for providing a comprehensive selection of CAD and graphics software, and we're glad we're to be partner."
Thanks to its extensive catalog and proprietary interactive technology, Novedge offers a comprehensive and unparalleled way to research and purchase CAD and graphics software online.
"3D PDF adoption is an inexpensive solution for collaboration and for sharing models, especially in the AEC space, which continues to accelerate," said Schell. "More and more small-to-medium-sized businesses use Adobe and 3D PDF technology for collaboration, and nearly half of Enterprise businesses use Adobe Acrobat, so it's great that Novedge makes it easy and convenient to adopt this technology."
Novedge currently offers
3D PDF Converter for Revit
,
3DA Acrobat Dynamics (Dynamic AEC Stamps)
,
Meta Data Exporter for Revit
,
3D PDF Converter; Acrobat Pro Suite
, and other software applications from 3DA Systems Inc. at
their website
.
"We think Novedge customers will benefit from 3DA's unique 3D PDF technology," said Schell. "At this time 3D PDF Converter for Revit® 2014 is the only plugin that quickly and easily converts 3D models from Autodesk Revit® 2014 into rich, interactive 3D PDF files that can be viewed by everyone, everywhere."
About Novedge
Novedge is the leading online software store for design professionals. From architects to engineers, from filmmakers to graphic designers, Novedge goes to great length to find all the software you need, so you can focus on your projects.
The Novedge website offers unparalleled search and comparison charts, with clear licensing information for over 8,000 titles, including all Autodesk products. The team is knowledgeable and can offer unbiased advice, guiding you to the right products for your specific needs at the most competitive prices in the industry.
www.novedge.com
About 3DA Systems
3DA Systems Inc. provides better tools for collaboration across the AEC Market. Taking advantage of Adobe 3D Technology and utilizing TechSoft 3D's HOOPS, 3DA Systems Inc. offers intuitive and interactive user interfaces that allow professionals to transform detailed object information from Autodesk Revit® Architecture, Revit® MEP, and Revit® Structure into the most effective collaborative file format in the BIM industry (3D PDF). 3DA aims to improve communication and coordination between designers, builders, and other professionals involved in any BIM project.
www.3dasystems.com
Contacts
Aurora Meneghello
Novedge
(415) 848 9018 ext.710