Dr. Anton Bilchik Discusses New Cancer Treatments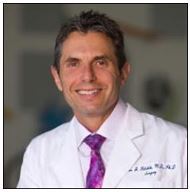 Santa Monica, CA –
Dr. Anton Bilchik
, a leading doctor in the treatment of cancer, discussed the steps that have been taken to make greater changes in how cancer patients are treated. Dr. Bilchik discussed these new breakthroughs on KFI-AM Radio recently. His discussion centered around the new targeted therapy that has shed new light on the treatment of cancer for many patients.
According to Anton Bilchik, MD, chemotherapy will likely become a thing of the past, but that time is not quite yet. Researchers are moving toward therapy that is directly targeted to the area affected by the tumor, rather than chemotherapy, which can affect the entire body. Chemotherapy, as it stands right now, destroys normal cells in combination with the cancerous cells. It is also hard to deal with the side effects that include hair loss, nausea, vomiting and incredible feelings of tiredness. According to Dr. Bilchik, chemotherapy was really developed to target circulating cancer cells that are found throughout the body.
Among the new drugs being researched to change the face of cancer is the drug, Glevec. This drug was originally approved by the Food and Drug Administration in 2001 as a treatment for chronic myeloid leukemia, which is a cancer of the white blood cells as well as the gastrointestinal stromal tumor. According to Dr. Bilchik, there are also other drugs currently being researched to continue to help change the fight against cancer.
Dr. Bilchik stated in is interview that chemotherapy does work for some patients and will continue to be a remedy for those fighting cancer. The main focus in regards to chemotherapy is making positive changes to reduce the toxicity of the drug, to help reduce the side effects that cancer patients must deal with while undergoing treatment.
Anyone that would like to learn more about the research that Dr. Anton Bilchik has performed, learn more about various forms of cancer or get further information, can visit him online,
www.antonbilchikmd.com
.
About Anton Bilchik MD:
Dr. Anton Bilchik is the Chief of Medicine at the John Wayne Cancer Institute in Santa Monica, California. He is known as a leader in cancer research. He has pioneered many different approaches for treating cancer, including innovative surgical techniques. He tries to operate as minimally invasive as possible to combat tumors for illnesses that include liver and pancreatic cancer. Dr. Bilchik has received many awards from the American Cancer Society and has been listed as one of the top doctors in America.