Amberwick Corporation Now Accepting E-Waste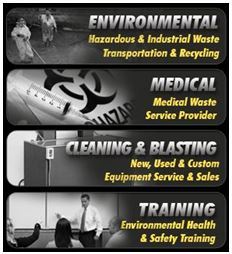 Long Beach, CA – Los Angeles hazardous waste disposal experts Amberwick Corporation are available to collect any used electronic equipment and devices for safe recycling.
E-waste poses a particular environmental threat that other disposable goods do not thanks to the presence of cathode ray tubes and other toxic chemicals that are not safe to dispose of in landfills. Amberwick is available to collect any consumer electronic devices that are obsolete or no longer in use and dispose of them according to the California Department of Toxic Substances Control's regulations.
Amberwick is a fully permitted, licensed, and insured hazardous waste disposal company that, in addition to E-waste, is qualified to handle
medical waste disposal
, lab packing and site clean up, waste oil recycle and other dangerous materials. Additionally, they are available for AQMD, Storm Water, and other regulatory agency reports, site cleaning and blasting, and health and safety training and certification.
To see all of Amberwick's available services or to schedule an E-waste pickup, visit their website at
www.amberwick.com
. They can also be reached by telephone at (562) 901-2350 x100 in the Los Angeles area or toll free at (800) 300-9990 x100, or in person at 2304 W 16th Street, Long Beach, California, 90813.
Amberwick has been providing hazardous waste and materials disposal to the Southern California region since 1976, establishing themselves as one of the premier private HazMat service providers in the area. Their safety record is impeccable, having lost no time to injury since 2004 and have received only the highest possible ratings by the Biennial Inspection of Terminals Program for over 20 years.
Email Amberwick Corporation