LS Coding & Education LLC Now Offers ICD-10 Classes to Prepare for the Exam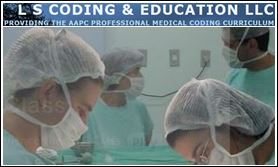 August 19, 2013 - Tucson, AZ – The deadline for the United States to begin using Clinical Modification ICD-10-CM for diagnosis coding and procedure coding system ICD-10-PCS for inpatient hospital procedure coding is October 1, 2014. AAPC Certified Professional Coders will have to complete a proficiency test to ensure they are aware of the coding updates and new guidelines. LS Coding & Education now offers
ICD-10 classes
that allow medical coding professionals to be an integral part of their company's ICD-10-CM implementation plan.
ICD-10 classes from LS Coding & Education are offered in a classroom setting or online. LS Coding & Education is a recognized leader and innovator in medical coding certification and all our ICD-10 training and coding courses are professionally instructed and conveniently structured to accommodate professionals' busy schedule. The ICD-10 exam passing rate for students of LS Coding & Education exceeds that of the national average by 10 to 15 percent and the standard of education surpasses that of many medical coding college courses.
The classroom-based curriculum of LS Coding & Education ICD-10 classes is four weeks long and includes exercises as well as a final exam. On-line course consists of 27 sessions presented in a pre-recorded classroom environment with lectures, handouts, and visual aids. These courses are available throughout the year. Upon finishing, students receive a certificate of completion and 27 continued education credits. The course tuition fee is $695 and includes textbooks.
A Certified Professional Coder (CPC) is the first line of defense against non-compliance and down-coding for any medical provider. Certified Coders help prevent legal difficulties and ensure that providers receive full reimbursement in a timely manner. For this reason it is important for CPCs to ensure their industry knowledge and credentials are always up to date with recourse like ICD-10 classes.
To register for an ICD-10 class test preparation, visit
http://cpc.certifiedcodertraining.com/
.
About LS Coding & Education:
L S Coding & Education LLC's AAPC e-learning program assists individuals interested in becoming a Certified Professional Coder (CPC). Founded by Lynn Schoeler, CPC, CPC-H, CPC-I, a licensed AAPC instructor, LS Coding & Education has been providing education to coders and physicians for over 19 years.
Email L S Coding & Education LLC