ADHD and Ritilin replaced with TactileCBT…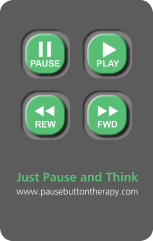 August 20, 2013 - As UK prescriptions for the ADHD medication Ritilin are quoted as increasing by 50% in recent years and the number of children diagnosed with the disorder escalates worldwide, a group of professionals believe that a new and novel addition to cognitive behavioural therapy called TactileCBT may come to the rescue.
The new approach incorporates the highly effective but simple Pause Button Therapy, which helps children to pause, freeze time and think through the consequences of the actions they are about to take. It's like being at the movies and getting to choose the way the film ends. Except it's not like the movies. It's real life. And there are real consequences to every choice and every action – being disruptive in class, running into the road without looking, shouting or hitting. So consider….what is the right choice to make? What is the right action to take? When children use the pause button approach they begin, sometimes for the first time, to take control of their own behaviour. Suddenly they can think through their choices and make better decisions. They learn to visualise the outcome of their actions before they have happened. They take control of their own destiny.
So how does TactileCBT fit in? The answer is in time travel. Jumping back and forth in time, exploring the past, present and future, and watching scenes and events unfold. In TactileCBT, the time travel is imagined: triggered and guided by a small remote control device – fast forward to the future, rewind to the past. In the same way that Dr Who jumps through time and space, so too does the TactileCBT child. The approach is based around Professor Philip Zimbardo's Time Perspective Theory. Time perspective relates to the ability to consider all three time frames (past, present and future), and it influences our decisions and actions and shapes our life path. It helps us to simultaneously think about events in the past, present and future, to imagine potential future events and the consequences they might have, and to use all of this information to make better choices. And it is particularly effective with children: after all, what child doesn't know how to use a remote control?
TactileCBT integrates Pause Button Therapy with established and robust cognitive behavioural therapy to produce an innovative new treatment approach. It works by interrupting the existing cycle of thought and behaviour, improving problem-solving skills, and restructuring thinking processes. It also creates a sense of personal responsibility, enhances motivation, and improves people's sense of control over their lives as well as their self-esteem (both of which have been linked to higher rates of treatment success).
Pause Button Therapy has been trialled with a number of children in primary schools in the Midlands. Preliminary research findings show that the approach has successfully treated a range of behavioural and emotional problems, including ADHD.
TactileCBT has been used to successfully treat a wide range of clinical problems (including anxiety, depression, eating disorders, substance abuse, behavioural difficulties in children, anger management problems, relationship difficulties) with a broad range of people (from adults to children, and across cultures, languages, etc). Many people reported significant changes to their life and functioning within one or two sessions; most show improvement within a handful of sessions.
Further information about Pause Button Therapy and TactileCBT can be found in the recently published book Pause Button Therapy (Hay House, 2013) and on the dedicated website
www.tactilecbt.com.
Free downloadable information is available for both therapists and parents via the website.