Ryson Announces Release of New Compact Spiral Conveyor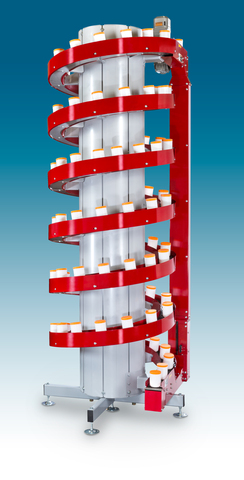 This super compact new Narrow Trak Spiral is designed to handle small loads and has a brand new 5" wide slat design. The new slat has the capability to end-transfer small cartons and packages, or side-transfer small bottles and containers in a single file or in mass.
This new NT 1000-200 model builds on Ryson's already proven quality and spiral technology that our customers have come to expect from Ryson. The modular design concept makes it easy to custom configure the spirals and meet our customers' specific requirements. It offers a significantly larger elevation change capacity than what is currently available in the small package marketplace today.
The proprietary low friction chain slat arrangement assures high capacity, high speed, low energy consumption, low maintenance and long life. This compact unit has an outside diameter of only 45" and will be a great space saver in addition to enabling high throughput.
We expect that the new Narrow Trak Spirals will in many cases replace gripper conveyors because these spirals do not need to be adjusted for varying product sizes and require much less maintenance. This new model will be especially beneficial for the pharmaceutical, nutraceutical, personal care and food products companies.
Ryson will be unveiling this new Narrow Trak Spiral at Pack Expo in Las Vegas, September 23 – 25, booth number 5607. Please visit
www.ryson.com
for additional information.