Industrial Central Vacuum Cleaner Critical Component of Profitability from Rail Yards to Pasta Processing Plants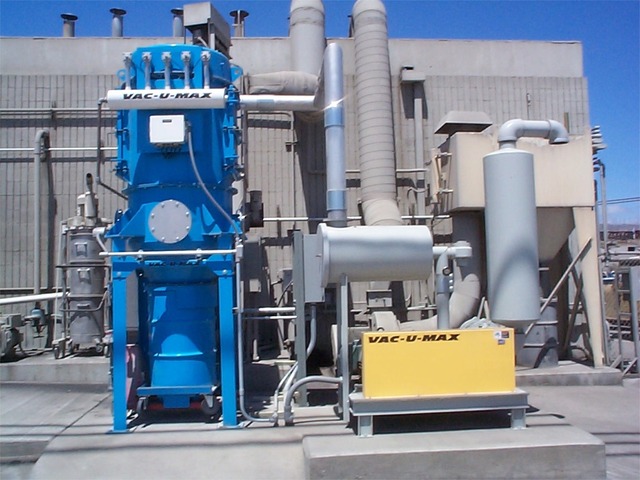 For environments where continuous cleaning in a 24/7 operation is required, VAC-U-MAX, the premier manufacturer of industrial vacuum cleaners, draws on its 60 years of proven application experience to design an
industrial central vacuum cleaner
that becomes an integral part of any manufacturing process. Much more than simply connecting an industrial vacuum cleaner to a pick-up point, VAC-U-MAX understands how materials behave and integrates its industrial central vacuum system to operate with users' controls to provide a system that delivers the same uptime and reliability as production equipment.
Industrial central vac systems employ powerful stationary industrial vacuum cleaners that have strategically placed piping throughout a facility connecting hoses to a common line, allowing cleanup of multiple areas simultaneously. With units that are able to clean anywhere from three to twenty stations at once, VAC-U-MAX provides sophisticated solutions and backs its experience with a written Performance Guarantee.
Whether it is cleaning debris from rail loading stations to minimize environmental impact; cleaning high production food processing facilities where cleanliness is of utmost importance; or collecting pharma washdown liquids, a VAC-U-MAX
industrial central vacuum cleaner
reduces cleanup time that eats away at profitability.
Golden Grain, a member of PepsiCo company under the Quaker Oats division in Chicago, uses five VAC-U-MAX systems for sanitation and cleaning in its pasta processing area and packaging department. These systems are standard pre-engineered models, but customized to provide the use of up to 20 pickup points from one central vacuum producer.
In a jet engine manufacturing facility, VAC-U-MAX was able to reduce cleanup time from one week to less than two days with an industrial central vac system. The system enabled the company to pick-up substantial operating time, produce more engine parts, and avoid any back injuries.
In the cement-manufacturing arena,
industrial central vacuum cleaner
systems are used in a variety of applications. For instance, Buzzi Unicem USA is sensitive to environmental issues and proactive in adhering to OSHA and MSHA regulations as well as local EPA guidelines. As such, the Stockertown, PA plant utilizes two VAC-U-MAX Monobloc centralized vacuum systems to remove product build-up around the hatches of bulk tankers and railcars that are loaded from above, ensuring no dust is spread when the trucks are leaving the facility or traveling through neighborhoods.
Centralized vacuums are also used in clinker plants early in the cement manufacturing process and capture a half ton of dust per day during the grinding process. In large grinding operations with multiple floors, the vacuum is centrally located on the ground level with piping routed to each floor for easy clean up.
Ranging from smaller units that accommodate three pick-up points and filter up to six tons of material per hour, to the larger Monobloc industrial central vacuum cleaner that can accommodate 20 pick-up points, VAC-U-MAX industrial central vacuum systems feature "plug-n-play" installation with a complete controls package. The absence of a discharge valve makes it perfect for abrasive and non-free flowing materials.
To learn more about industrial vacuum cleaners or how VAC-U-MAX
industrial central vacuum cleaner
systems can improve efficiency, ergonomics, or reduce costs, write to them at 69 William Street, Belleville, NJ 07109; call 1-800-VAC-U-MAX (800) 822-8629 or (973) 759-4600; e-mail
info@vac-u-max.com
; or visit their website
www.vac-u-max.com
.