Club Med Announces All Inclusive Holiday Packages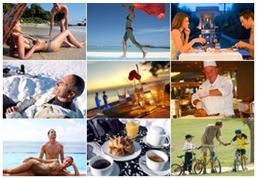 Miami, FL – Club Med, the original provider of all inclusive getaways, today announced a selection of
all inclusive holiday packages
. Designed with the traveler in mind, the all inclusive packages from Club Med include more amenities and activities than any other vacation specialist. From snow covered mountains to sunny beaches, holiday travelers will find 80 Club Med all-inclusive resorts around the world where they can spend and unforgettable holiday season.
Club Med offers the perfect all-inclusive holiday packages for families with activities to suit all interests, including spacious family-sized accommodations and award-winning children's clubs for kids from four months to 17 years old, with dedicated amenities and age appropriate programs including Le Petit Sports®, circus school, creative games and enriching activities. Each resort has a wide selection of activities to choose from, so travelers can have an action packed holiday or choose to spend your day relaxing, or exploring the local cultures.
Available during the fall and winter holidays, the all-inclusive holiday packages from Club Med include flights and transfers to and from the Club Med resort, a range of comfortable accommodation choices, fine dining, open bar and snacks, ski passes, equipment rental and ski lessons, special activities for children and teens and other activities, entertainment and nightlife. All Club Med resorts have a Trident rating that ensures the same level of high quality everywhere in the world. With everything included in the price, holiday travelers who choose all inclusive holiday packages from Club Med can leave all the worries behind and enjoy an unforgettable escape.
Now is the perfect time to book a winter or fall all-inclusive holiday package. Choose from ski resorts in the Alps or sunbathed beaches in some of the most spectacular locations around the world. Club Med now also offers all-inclusive holiday getaway packages on its five-mast majestic cruise ship offering even higher quality services and memorable destinations.
About Club Med:
In 1950, Club Med was built on the vision of its two founders, Gérard Blitz and Gilbert Trigano, convinced that happiness is mankind's destiny and that to achieve it he must be free and free from all constraints. Gérard Blitz said at the time: "Our goal in life is to be happy… The time to be happy is now. And the place to be happy is here." In this context, Club Med's raison d'être is to allow its clients, during their vacation, to get back to the way life should be, or what life should never have stopped being. To find the perfect all-inclusive holiday package, visit
www.clubmed.co.za
.