My Safe PC 2014 Proves its Ability to Scam PC Users and Fails to Provide Security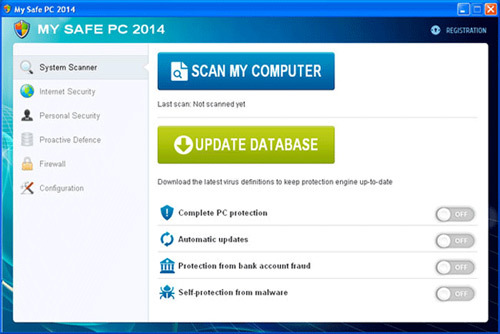 The My Safe PC 2014 application has been classified by researchers as a rogue antispyware program. In knowing how rogue antispyware programs operate, it is of no surprise for EnigmaSoftware.com to discover that it uses aggressive methods to extort money from unsuspecting computer users.
Knowing how My Safe PC 2014 is able to perform several misleading actions, PC users are warned to never use My Safe PC 2014 for the detection and removal of malware. The
My Safe PC 2014
application is known to display several pop-up alerts attempting to warn PC users of detected malware threats. Additionally, My Safe PC 2014 will return a multitude of falsified system scan results claiming that all types of threats were found ranging from Trojans to different types of spyware.
The My Safe PC 2014 program is usually presented in an enticing manner where the bright colors of its main menu interface mimic those of Windows 8 and then lists several available features similar to those found on legitimate antispyware or antivirus programs. In doing this, My Safe PC 2014 is able to trick many PC users who eventually end up purchasing a registered version of the My Safe PC 2014 application. In doing so, you would have given your money over to a cybercrook who is in the business of spreading fake security programs similar to My Safe PC 2014 across the Internet.
The release of the latest My Safe PC 2014 removal report at
http://www.enigmasoftware.com/mysafepc2014-removal/
has been a benefit for many computer users who are seeking a means to uninstall and completely remove My Safe PC 2014 from their system. The uninstallation of My Safe PC 2014 usually cannot be performed as you would any legitimate application through the Windows control panel. Instead, My Safe PC 2014 does not present itself in the list of installed programs on your system. Coincidently, it was designed this way on purpose so it may render its sneaky scheme to trick you out of money.
The similarities of My Safe PC 2014's behavior can be traced back to other popular rogue antispyware applications, such as System Care Antivirus and
Antivirus Security Pro
. Each of these fake security programs represents an aggressive scam that will cause utter aggravation until the action to remove them is taken.
Through vigorous research and testing, EnigmaSoftware.com is able to provide the necessary resources to completely remove malware and the rogue antispyware program My Safe PC 2014 from virtually any Windows PC with ease.
Email Enigma Software Group USA, LLC