Pixpa.com announces 50% discount on portfolio websites for students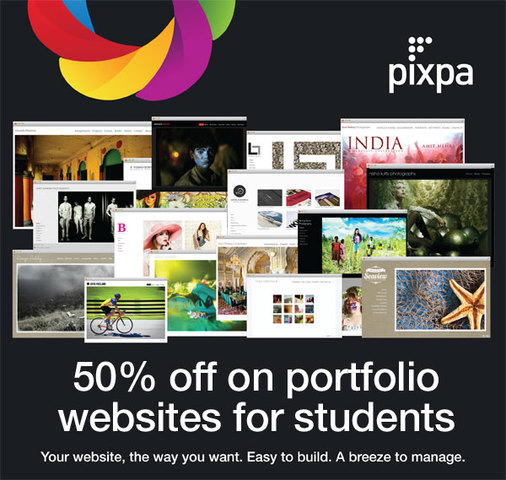 New Delhi, Aug 28, 2013
: Pixpa (
www.pixpa.com
), the leading online presence solutions provider for photographers and designers, has taken a new stride towards attracting the budding photographers and future professionals by announcing its Edu Plan, which offers 50% discount to the eligible candidates.
"We have always wanted to work with students", said Gurpreet Singh, Founder, Pixpa, "They are the future professionals and so we want to build long term bonds with students in creative fields". "Our service is designed to cater to the thorough professionals but now we are offering the same at minimal rates to the students", he added.
It should be noted that Pixpa's online portfolio building services enables photographers and designers to create their own websites with minimum effort, thus helping them build and manage their online business. Considering the amount of competition in the field, even the students in such fields are now looking to have their online portfolios that can help them in showcasing their work more effectively as they look to build a solid foundation for their career. While the cost associated with the same is an issue for students and amateurs, this discount should help them get started easily.
This plan is open for all the students of creative arts such as photography, design, fashion, fine art, videography etc. They must be currently enrolled at an accredited institution verifiable through valid documents. "This plan will enable the students to showcase, share and sell their artwork just like real professionals without burning a hole in their pocket", reiterated Gurpreet.
You can sign up for 15 days free trial account at
http://www.pixpa.com/signup
For more details regarding the Edu Plan please check
http://www.pixpa.com/students