5 Tips to Help Travel Agents Plan Unforgettable World Cup Experiences for Clients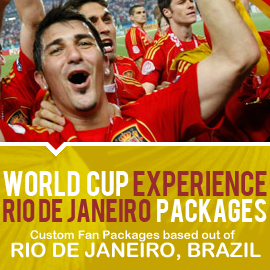 With the World Cup in 2014 less than a year away, many traveI agents are getting calls from clients who would love to plan a trip to Brazil for this epic event. With so many options and ways to see the World Cup (the round robin alone has 12 different cities hosting 4 games each), Roadtrips has put together 5 tips that can help in planning an unforgettable World Cup experience for clients.
Tip #1 - Hand Over the Paint Brush
When clients are given the virtual paint brush, they can paint a clear picture of what would make the trip a "wow" experience. This can help agents understand details like how long the client wants to stay, what level of hotel, what ticket level is preferred and how many matches would be ideal. These details will help define the experience that is the best fit.
Tip # 2 - Customization is the Key to Success!
There are so many ways to experience the 2014 Soccer World Cup and with a plethora of options, clients have the opportunity to build their own travel experience and not be stuck in a static package that doesn't fully encompass their needs. Customization is what sets Roadtrips apart and building a travel experience around what the client wants to do can be very powerful in securing a booking. The fact that agents can customize to whatever fits the clients' needs is a big selling feature.
Tip # 3 - Define a Budget
World Cup travel packages can range from just the essentials to a detailed itinerary of VIP experiences. Such an event comes with a huge price range, making it that much more important to determine what the client is comfortable in spending. No one wants to be pigeon-holed but building a travel experience worth $20,000 per person when the client really wants to spend no more than $10,000 per person won't encourage them to book. Talking in round numbers or ranges are great ways to narrow down just how much one is comfortable in spending.
Tip # 4 - Understanding Why Roadtrips is the Leader in its industry
Understanding what sets Roadtrips apart can be key in building rapport, credibility and trust with clients and can help them to feel more comfortable when traveling, particularly to foreign countries with family and loved ones. There are many stories of people purchasing tickets online for "the very lowest price" only to travel great and tiring distances to find that the tickets were void at the gate. This type of experience is devastating on many levels. Roadtrips provides a peace of mind service and 22 years of experience, including multiple World Cups and every other major sporting event around the world. Roadtrips' clients never have to worry about tickets, hotels or transfers and can rely on having access to a representative 24/7 on the ground at the World Cup.
Tip # 5 - Book Now, Save Now…Book Later, Spend More
A rule of thumb in the sport travel industry is the closer you get to a particular event, the more it will cost. For clients who are serious about attending the World Cup in 2014, creating a sense of urgency is a legit way to save them money. In some instances, a time span of 2 months can mean a cost difference of $2000 per person on a World Cup package. Booking early will not only save money, it will also provide greater availability when looking at components such as accommodations or ticket options.
Bonus Tip - Get your Free Ipad Mini Now!
Any booking over $10,000 through Roadtrips bestows a new ipad mini upon the booking agent. Contact Roadtrips with any World Cup inquiries and let them assist in building a travel experience that will impress even the most discerning traveller.
Since 1992,
Roadtrips
has been specializing in providing memorable travel experiences to the world's most sought-after sporting events. The company has received many accolades for its superlative service and is known in the travel industry as a unique 'secret service' for luxury travelers. Roadtrips takes pride in its ability to deliver extraordinary sports travel experiences for thousands of discerning guests every year.
For more information, call Jake Vezeau at 1-800-465-1765 ext. 199 or visit
www.roadtrips.com
.