Quandel Strengthens Brand Positioning with Launch of New Logo and Website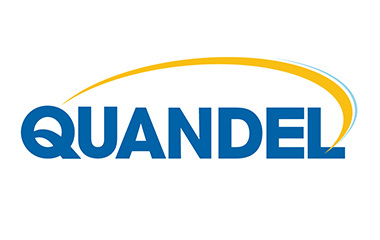 Quandel has launched a new logo and website to strengthen its brand positioning and establish a unified online presence in the industry. Created by
JPL
, the initiative produced a cohesive visual identity of the organization's multiple divisions under one brand mark. JPL then established a formalized approach and messaging strategy to drive the website redesign effort.
"
Quandel
is a family-owned business and has seen significant changes over the last few decades, through recent acquisitions and expansions. Our divisions collectively offer diverse expertise in the construction industry, but we needed to find a way to better showcase our capabilities," said Bud Quandel, president at Quandel. "JPL understands the complexities involved in uniting seven previously independent divisions, and helped us create a new online experience for our customers and prospects that each of our divisions can be proud of."
Headquartered in Harrisburg, PA, Quandel was founded more than 130 years ago and is comprised of seven companies that together offer deep expertise in construction. The divisions include: J. Vinton Schafer, Quandel Engineering, QEI Construction, Pyramid Construction, Quandel Consultants, QBN Development and Quandel Construction.
"Quandel wanted to create a distinct web presence to better reflect their value and communicate their collective expertise within one site," said Bill Kobel, vice president, strategy and integrated communications at JPL. "Working collaboratively with the Quandel team, we created a fresh look and feel for the brand, and developed messaging to tell their story in a differentiated and compelling way online. New strategic content, including a corporate video, engages key decision makers in their market."
Initially, Quandel and JPL joined forces for web strategy, design and development. While collaborating on the site's strategy, JPL recommended the opportunity to visually unite the divisions under one logo. As a result, a formalized approach and messaging strategy were then developed to position the brand and drive creative development. The new website allows customers and prospects to quickly understand what makes Quandel different and showcases the collective strength of the organization as a whole.
About JPL
JPL crafts strategically inspired communications that connect with people and affect what they do. JPL is an integrated agency specializing in digital, B2B marketing and advertising, media production and internal communications. Founded in 1989, the firm services leading regional, national and global organizations. Learn more at
www.JPLcreative.com
.
About Quandel
Quandel Enterprises provides construction, construction management, engineering, development and consulting services through eight subsidiaries in the Mid-Atlantic and Midwest regions. Based in Harrisburg, Pennsylvania, Quandel is consistently ranks on the ENR Top 400 U.S. Contractors list and Top 100 Construction Management Firms. For more information, please visit
www.Quandel.com
.
Contact Information
Susan Cort
JPL
717.901.4123
Contact Us