My Speed Loss Announces Distribution Launches in Australia and Canada for Its Jumpstart Speedloss Product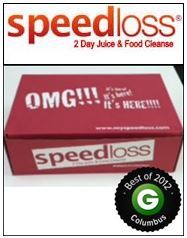 Columbus, OH - My Speed Loss, a
leading retailer of innovative weight loss and cleansing solutions
, is excited to announce that it has launched distribution for Jumpstart Speedloss in Australia and Canada over the past month. The wildly popular product contains everything customers need to detox and cleanse, for weight loss of up to 12 pounds in 2 days.
The company's recent expansion Into Australia and Canada marks My Speed Loss's shift from a small operation based in Worthington to an international company. The delicious Jumpstart Speedloss product combines delicious food with 100% all-natural detox juice, making for a safe and effective way to cleanse and lose weight fast. It includes fat-burning protein shakes, all-natural cleansing juice, protein-fortified oatmeal, natural detox supplements, and an instruction guide for recipes and more.
From the beginning, My Speed Loss and its products were designed to provide a low cost alternative to expensive methods of rejuvenation like the day spa. According to a spokesperson for the company, "We offer a special cleansing detox juice full of vitamins and minerals, providing both dieters and detoxers everything they need to lose weight and rejuvenate their bodies in the process." From its new distribution launches to its upgrades to staff and technology, My Speed Loss has proven itself to be a great source for the best weight loss and cleansing products today.
About My Speed Loss
For over a decade, My Speed Loss and its Speedloss products have made it possible for customers all over the world to achieve their weight loss and cleansing goals. From humble beginnings as a small Worthington Ohio office into an international business, the company features products that address the three key aspects of detox, which are no hunger, accelerated fat burning and metabolism boost, and great taste. My Speed Loss has sold more than one million Speedloss products and reached more than 25,000 clients, including everyone from celebrities to busy professionals. For more detail please visit,
www.myspeedloss.com
.