Tech Professionals Have Among the Lowest Levels of Professional Pride in the UK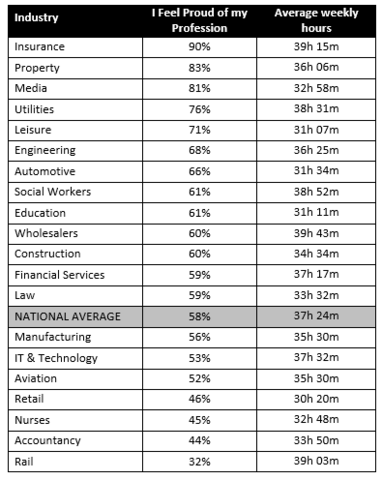 Technology professionals feel less professional pride than most sectors in the UK, according to research by specialist recruiter Randstad Technologies.
Only 53% of Tech professionals feel proud to work in their profession
Results point to a sector-wide image problem which needs to be addressed
In a survey of over 2,000 British workers, 58% of British workers said that they felt proud to work in their professions. But only 53% of those working in IT & Technology said they were proud of their profession. At the other end of the spectrum, 90% of those working in insurance felt proud of their profession, while those working in engineering, property, financial services and social services were also above average.
In the sectors where employees felt least proud of their professions, staff spent less time at work than the national average, suggesting that employers need to make staff feel proud of their profession or they risk creating a disillusioned workforce.
Mike Beresford, managing director of
Randstad Technologies
, explained: "In order to attract and retain a talented, dedicated workforce, employers need to make their staff feel proud of what they do. No one wants to go to work each day without feeling proud of their careers – and the research proves that employees who fall into this category often spend less time each week at work. A good sense of professional pride isn't just good for employees – it's good for business."
Less proud – less committed?
In most of the sectors where the level of professional pride was below the national average, employees spent fewer hours at work. For instance, only 44% of those working in accountancy felt proud of their profession, and their working hours of just 33 hours and 50 minutes per week are considerably below the weekly average. By contrast, 61% of social workers feel proud of their work, and their working hours of 38 hours and 52 minutes are significantly higher than the UK average.
Mike Beresford explains: "A sense of pride in the workplace doesn't automatically mean that employees are more committed to their jobs, but a lack of it presents a very real, organisational risk. When employees are less engaged with their profession, they are less likely to go above and beyond the minimum requirement in terms of their weekly hours."
The research also compared professional pride with pay in different sectors – and found no correlation between the two. While property professionals are paid less than the national average, with weekly earnings of just £479.40, workers in this sector are the second most proud of their profession in the country. Meanwhile, technology professionals receive an average of £677.40 per week – considerably more than the UK average of £505.90 – but are among the least happy in the UK.
Mike Beresford continued: "There are clearly a variety of factors at play here. We know that professional pride among employees isn't about pay. It relates to an intrinsic sense of what working in that profession means to them. Equally, we know teachers and social workers feel pride in knowing that their work allows them to make a real difference to people's lives."
'Image Problem'
The technology sector is one of the fastest growing in the UK, with employees receiving among the highest salaries of any profession. Yet the sector recorded lower than expected levels of professional pride in the research. There appears to be a contradiction between the external perception of technology and the reality of working in the sector.
Mike Beresford continued: "The discrepancy between employee pride and the reality of a career in technology points to a sector-wide image problem which needs to be addressed. Unfortunately many of the people in STEM careers are often depicted in the mass media in a highly stereotypical manner. Some people might associate a career in IT with the exaggerated, techie characters that exist in TV shows such as 'The Big Bang Theory'. But the reality is that most people in the UK are now completely dependent on IT professionals' skills to power the technologies which surround our everyday lives. The industry is booming and with the results to prove it in terms of growth and pay.
"The proliferation of new technologies and the explosion of 'big data' will exacerbate this problem even further as there will soon be a shortage of talented professionals who can fulfil such specialist roles. The UK is already facing a shortfall of 33,000
IT and tech workers
by 2050 due to skills shortages, an ageing workforce and restrictive migration policy. In order to sustain a truly engaged workforce, the IT & tech industry should seek to challenge and solve any underlying image problems that might exist."