Education Location Introduces New Partnership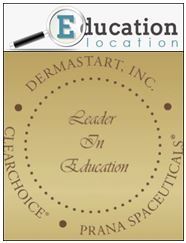 Education Location, the online provider of connections to professional educational courses, has announced a new classroom based
cosmetology and esthetic partnership
with the Educational Division of Dermastart Incorporated. This recent addition opens up new opportunities for Florida residents who wish to satisfy their needs for skin care fundamentals, chemical peels, facial massage, hyper-pigmentation, and other important topics; in a professional classroom environment with a quality certified instructor.
Education Location will utilize the new partnership to bring high quality esthetic continuing education courses and certification classes to students in the state of Florida.
As leaders in their field, Education Location continuously seeks new and differentiated educational opportunities for their valued customers. Dermastart Incorporated is a strong Florida continuing education addition to their stable of best-in-class school partnerships. Dermastart offers high quality classroom based esthetic courses that include continuing education and additional certifications.
Education Location offers connections to an array of courses designed to best serve the various educational needs of their customers. They offer a wide selection of online driving, continuing education and license renewal courses, for real estate and mortgage, insurance, OSHA and workplace safety, cosmetologist, electricians and more. Through their user-friendly website, Students can easily find and compare what school offer to fit their unique needs and situation. The education division of Dermastart Inc. is a well known, established and highly sought after classroom esthetic course provider and Education Location is happy to add them as a new education partner.
About Education Location
Based in Irving, Texas Education Location is a unique online source of educational courses for people seeking to meet state licensing requirements or continued education in various fields. Through their website, students can search, find, evaluate, compare and register for the course that best suit them. Education Location offers access to online and classroom courses designed to educate students in their field of work or trade. Education Location offers connections to driving, continuing education courses and license renewal, real estate and mortgage, insurance, OSHA and workplace safety, cosmetology and electricity courses. For more information, visit
www.educationlocation.com
.