CyberlinkASP Has Been Recognized as a Leading Provider of Cloud Services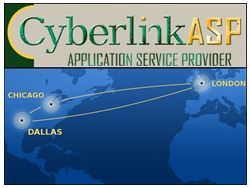 Nine Lives Media's third
annual report of leading cloud services
providers includes CyberlinkASP, a Dallas-based technology firm that specializes in providing application services for organizations that are looking to expand their use of the cloud. CyberlinkASP joins an elite collection of companies that have together generated revenues of more than $15.7 billion.
The revenue growth of the ever-expanding cloud services industry represents an uptick of 37% compared to 2012. The Talkin' Cloud 100 report bases its ranking on both actual and marginal revenue growth rates, and CyberlinkASP has continued to demonstrate its ability to thrive in the midst of a highly competitive industry.
"Nine Lives Media and Talkin' Cloud congratulate CyberlinkASP," said Amy Katz, president of Nine Lives Media. "The Talkin' Cloud 100 honor arrives amid a land grab in the cloud computing market. And the Talkin' Cloud 100 companies are leading that land grab."
CyberlinkASP, is making the most of new opportunities presented by advances in cloud computing technology. Revenue is up significantly from 2012, and much of the growth has come from cloud services and virtual desktop offerings. "Our hosted virtual desktop service is changing the way companies view IT," said Mason Cooper, CyberlinkASP's VP of Information Technology. "Every day more and more businesses are adopting our technology."
About CyberlinkASP:
CyberlinkASP is an information technology (IT) managed services firm that provides hosted virtual desktops, private cloud hosting, and security services. With datacenters in Dallas, Chicago, and London, CyberlinkASP's world-class client list includes financial institutions, health care providers, insurance companies, cargo logistics businesses, and payment card processors. Providing cloud solutions since 1999, CyberlinkASP operates from the U.S. and is privately owned. For additional information please visit,
www.cyberlinkasp.com
.