GreenRope Gives Users "The Focused Business" in Support of Defy Ventures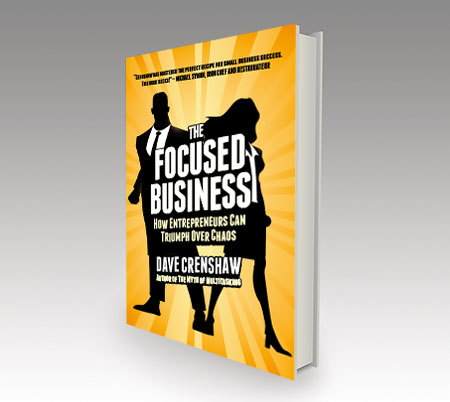 SAN DIEGO, Calif. – September 6, 2013
– GreenRope, the leader in Intelligent CRM and marketing automation platform, today donated a sizeable sum to Defy Ventures, a New York based nonprofit, in exchange offering GreenRope users a free copy of Dave Crenshaw's popular business book, "The Focused Business."
"We are constantly finding ways to provide our users with interesting and insightful resources to help grow their businesses," says Alessandra Ceresa, director of marketing at GreenRope. "This book offers readers a fun and inventive way to overcome the day-to-day chaos that comes naturally when running a business."
Dave Crenshaw is a master at helping businesses harness workplace chaos. His impressive business track record includes appearances and mentions in TIME Magazine, Forbes, the Washington Post, and the BBC News, and is the author of "The Myth of Multitasking." All GreenRope users now have access to the book, so they too, can discover how to create a solid business foundation for successful growth.
GreenRope donated to Defy Ventures, an organization that provides carefully selected, ambitious men with criminal histories with life-changing entrepreneurship, leadership, and career opportunities. In Return, Defy Ventures provides all GreenRope users with Dave Crenshaw's credible business advice in his book, "The Focused Business."
GreenRope will also be giving away signed copies of the book to the first eight GreenRoper users to send in their story of how GreenRope has benefited their business. If interested, please send all stories to
aceresa@greenrope.com
.
About GreenRope
Lars Helgeson, who saw the need to make running a small to mid-sized business easier and more efficient, founded GreenRope. GreenRope's mission is to resolve the challenges of managing business operations by providing cloud-based integrated software that is effective, affordable, and user friendly. GreenRope streamlines key operations, including e-commerce, accounting, CRM, email marketing, mobile marketing, calendaring, websites, social media and more into one easy-to-use platform. By using GreenRope, companies can reduce their marketing and CRM software expenses by an estimated 80%. GreenRope's affordable pricing plans start as low as $99/month. Visit
www.greenrope.com
for more information. Follow GreenRope on Twitter.
About Defy Ventures
Defy Ventures is funded and managed by a group of entrepreneurs and venture capitalists who recognize that many former drug dealers and gang leaders share similar skill sets and talents with top business leaders. Through an intensive internship program that includes MBA-like training, executive mentoring, leadership development, and career placement, Defy Ventures offers its interns a legitimate chance to succeed as income earners, entrepreneurs, fathers, and role models in their communities. Defy's signature program engages interns in a series of business plan competitions that award up to $150,000 in seed capital to winning ventures. Defy Ventures is a New York City-based nonprofit organization that is entirely privately funded by executives, foundations, and other generous donors.