Voice & Data Networks Expands Their Enterprise Unified Communications (UC) Business with the Addition of Their New Vice President of Sales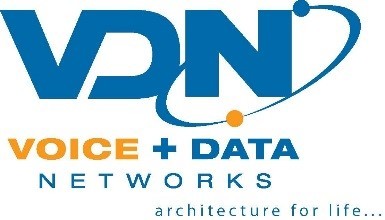 VDN's
enterprise unified communications
(UC) business is complimented with the addition of their new Vice President of Sales, Adam Lurie. Mr. Lurie's background in maintaining the highest service level standards in the technology and telecommunications industries over the past 19 years will play an important role as VDN continues to create strategic alliances to effectively drive business growth initiatives and significant value proposition to their clients.
"VDN constantly adapts to technology changes by continuing to update our skill sets and products to offer services that remain on the cutting edge of the telecommunications landscape and help companies achieve goals efficiently," said Joe Hines, CEO of VDN. "Adam is an exceptional addition to our leadership team and will play a key role as we continue to expand our enterprise unified communications (UC) business and core infrastructure management services. We are excited to have him on board as we execute on our next phase of growth."
The speed of technology has outrun traditional IT organizations. Technologies from the consumer space have entered the workplace and business users' expectations for instant access to information has exploded. Employees' requests for new applications, functionality, and technology is incessant and has increased the demand for expertise. The IT organization is grappling with how to have employees be connected from any device, anywhere in the world, while also working to keep their organization's data secure when the demand for new technology is speeding up.
IT is chartered with supporting everyday operations without a hiccup, and keeping their organization competitive through the use of technology. It's impossible for them to attempt to address every need or conquer every technology. That is exactly where VDN's enterprise unified communications and
core infrastructure management services
fit. Otherwise, IT organizations are spread too thin, and users will implement solutions on their own, which can be an issue for an organization.
Businesses need solutions that best meet their short- and long-term communication and business goals and all of the components have to be tied in with the business' underlying network and carrier or services, which requires a good deal of integration work and expertise.
Successfully implementing UC and managing it depends on first building a solid infrastructure to support UC solutions, then having a solid strategy in place to manage UC application performance, and troubleshoot UC hardware and software problems.
For organizations to get the most return on their UC investment, integration with existing or new business processes is key. Tying together hardware, software and network elements, and across multiple locations and regions, if required, can present many challenges, like security, interoperability and standards adherence, compatibility and adoption.
Understanding the implementation and integration challenges has put VDN at the forefront of the enterprise UC and core infrastructure management business today. VDN understands not just the various UC products and technology, but establishes a consultative relationship with their customers to focus on what's best for their specific needs to create a successful deployment that seamlessly integrates the UC solution with their applications
VDN's enterprise unified communications (UC) business and core infrastructure management services are highly adaptable, customizable, and uniquely capable of meeting organizations' precise requirements to fit their needs. When clients' needs change, VDN can change right along with them, looking out for their best interests and supporting their needs for the life of the partnership.
About Voice & Data Networks, Inc.
Voice & Data Networks, Inc.
(VDN) is a technology solutions and managed service provider backed by two decades of designing, implementing, maintaining, and managing powerful converged communications networks for enterprise customers nationwide. VDN provides comprehensive service and support to small, medium, and large companies, resulting in exceptional customer service, improved productivity, and strategic business results. VDN takes pride in making communications applications return profitability and efficiencies to their customers.
Email Voice & Data Networks, Inc.