Ganesh Machinery Presents Highly Anticipated Open House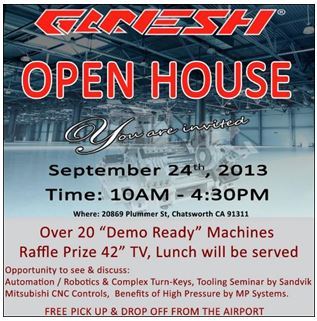 Chatsworth, CA – Ganesh Machinery, the popular machine tool industry leader, has announced the Ganesh Open-House 2013 event to take place at their headquarters in the heart of the San Fernando Valley. Attendees can expect numerous informative
presentations designed to help businesses identify ways in which to become more competitive
by reducing labor, improving milling efficiency, and more. The special event is slated for the Tuesday afternoon of September 24th, from 10am to 4:30pm, at their main facility at 20869 Plummer St. in Chatsworth, California.
The day is set to contain a wide variety of special presentations covering a multitude of industry related tips and eye-opening demonstrations of powerful CNC milling and turning machines, including: high-speed milling, 5-axis milling, 50-taper heavy-cutting milling, 36-tool B-axis machine, Mitsubishi CNC controls, big-bore manual & CNC lathes, and more.
The demonstrations will focus on the many features and benefits emerging from the latest in the CNC milling machining industry. Attendees will learn the keys to milling efficiently for profit, how complex geometries can be simplified, the cost effective solutions offered by 5-axis milling, and more. Ganesh will also cover the economic realities affecting machining shops around the nation and how "Done-In-One" machining has become a necessity for business survival.
Ganesh Open-House 2013 comes on the heels of a busy and particularly fruitful year for the Southern Californian machine tool experts. This year, they debuted their critically acclaimed new 7 Axis CNC Swiss Style Lathe with successful runs at the 2013 Precision Machining Technology Show (PMTS) in Columbus, Ohio. Ganesh Machinery has solidified itself as one of the top 10 machine tool brands in the United States, controlling approximately 2.1% of the national market share and growing.
Ganesh is excited for their upcoming open house event, where they look forward to displaying their widespread capabilities in production analysis, automation and turnkey solutions.
Lunch will be served from 11:30am to 2pm from the "IN-N-OUT" Cookout Grill.
About Ganesh Machinery:
Founded in March of 1985 with only a 1,200 sq. ft. facility, Ganesh Machinery has since grown into an industry powerhouse with a 15,000 sq. ft. facility, supported by a 40,000 sq. ft. warehouse. They are dedicated to excellent customer service with an emphasis on building and maintaining customer loyalty. They have sold and serviced machines to over 12,000 machine shops, technical schools, and more. They have a 4,000 sq. ft. showroom, fully stocked parts room, and an in-house training center. For more information, visit
http://www.ganeshmachinery.com/
or follow them on Facebook, Twitter, LinkedIn, YouTube, or Pinterest.
Email Ganesh Machinery, Inc.