Consulate Cracking Down On H-1B Visas In India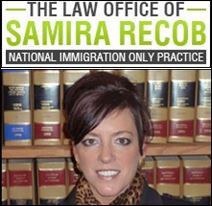 Getting your H-1B visa stamped is getting tougher for Indian workers, as U.S. authorities are taking a harder line on foreign workers in the information technology field and many other fields. For
skilled Indian workers seeking work in the U.S. or returning to their jobs
after a visit home, The Law Office of Samria Recob, a Colorado H-1B attorney, can help them overcome bureaucratic obstacles and expedite the process.
H-1B visas are non-immigrant visas issued to skilled workers in specialty fields. Each year, the USCIS (United States Citizenship & Immigration Services) issues 65,000 H-1B visas plus 20,000 H-1B visas for those graduating from the US with a Master's degree. Many of these visas go to workers in the information technology field. These visas are good for three years, and can be later renewed.
In recent years, U.S. authorities have heavily scrutinized the business practices of IT consulting firms that hire Indian workers and place them with third-party clients. Authorities have routinely subjected candidates for new H-1B visas and H-1B holders seeking a renewal of their visas to a barrage of questions about their employer status. The increased scrutiny can cause big delays and hassles in getting a visa approved and may even result in unwarranted denials.
According to the U.S. Department of Homeland Security, India receives a majority of the H-1B visas issued by the U.S. government. About two-thirds of all H-1B visas issued go to residents of India. Although the number of visas issued to Indians is increasing, so are the number of denials of H-1B visas to them.
The hassles and delays involved with getting H-1B visas may soon become worse, as the U.S. Congress is considering legislation that would make getting H-1B and L-1 visas more difficult and expensive. Part of a comprehensive immigration package, the new legislation would forbid companies with more than 50 employees and companies with more than half their workforce on H-1B visas from getting any more of these visas after 2016. Also, the new legislation would make H-1B visas more expensive than they are now – large companies would have to pay $15,000 per visa, while smaller companies would have to pay $5,000.
Workers and businesses experiencing difficulty in getting H-1B visas now should consider seeking help from Colorado H-1B attorney Samira Recob. Recob specializes in business related immigration as well as family immigration. Samira Recob's years of experience as a Colorado family immigration lawyer gives her the skills and connections to help ease clients' passage through the gauntlet of the federal immigration system.
About The Law Office of Samira Recob
Samira Recob is an experienced immigration attorney, having extensive experience in all business related immigration matters as well as family immigration. Recob's firm specializes in immigration law, and has the skills and expertise to assist in all immigration needs, including H-1B visas, citizenship and naturalization, investor visas and more. For a free consultation, visit
http://www.recoblaw.com/consultation/
or call 303-639-3090.
Email The Law Office of Samira Recob