Energy Bulbs Offer An LED Alternative To The Expensive Electricity Bill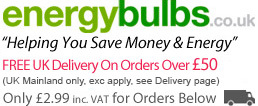 Halogen Bulbs have been the popular choice of bright lighting in the home for many years, but that is set to change as
Energy Bulbs
can now report LEDs to have taken over as the top selling bulbs for domestic use. LEDs offer significantly lower energy use and have therefore become more and more commonplace in the home as the need to save money increases. With UK-wide delivery, Energy Bulbs are offering an extensive range of LED bulbs all available to buy immediately online.
Many of us have fallen in love with the halogen bulb over the past few years, and it is for a very good reasons. They look great once installed and fit flush with the ceiling and give out absolutely masses of light at the flick of a switch, yet equally so they can be used as fantastic mood lighting as the majority of them can be used with a dimmer switch.
However if you are like the people at EnergyBulbs.co.uk then you will also be aware that in providing such high volumes of light they do so at a cost your electricity bill, as in general most halogens are 50 W's or more. The good news is that the people running energy bulbs.co.uk may be able to help you out in reducing the running costs of your lights, and replace your halogen bulbs which tend to be in a common GU 10 fitting, with an equivalent LED light bulb.
Indeed it is the GU 10 fitting that is the most widely used amongst halogen bulbs. The good news is that
energybulbs.co.uk
stock a vast range of replacement LED bulbs all with GU 10 fittings, meaning that you can very easily replace all of your energy hungry halogen bulbs with very low energy LED light bulbs, and as LED light bulbs only use 15 to 20% of the electricity then energybulbs.co.uk can assure you of a big reduction in your electricity bill if you make the switch.
The importance of the cost saving that using GU 10 LED bulbs can bring to you should not be overlooked, particularly in a commercial setting whereby you may have a shop with a large number of halogen bulbs turned on all day, which can run up a large bill as well as actually making the inside of your shop hotter due to the heat output of the lights. Energy Bulbs would point out that by fitting replacement GU 10 LED light bulbs you are not only greatly reducing your shops electricity bill, but also you will spend far less on air conditioning as
LED bulbs
are cool to the touch and emit virtually no heat whatsoever. So just by fitting them you are actually not only saving money on electricity for lighting, but also improving your customer environment as well as spending less on electricity for air conditioning.
Even if you currently have halogen lighting that is used on a dimmer switch then do not worry as due to technological advances there are now replacement
GU10 LED dimmable
lights available, which work perfectly well and safely with any dimmer switch or transformer. Energy Bulbs are only a phone call away with advice on this subject.
Also you may be interested to know that energybulbs.co.uk stock not only white bulbs, but also a range of GU 10 LED light bulbs in a wide range of other colours, which you may find ideal for creating mood lighting.
Energy Bulbs stock a very wide range of GU10 LED bulbs to cover just about every wattage and type of application that you may require a replacement bulb for, so why not checkout the great deals they have on their website today.