Pixpa Supports the Delhi Photo Festival, 2013: Becomes Associate Sponsor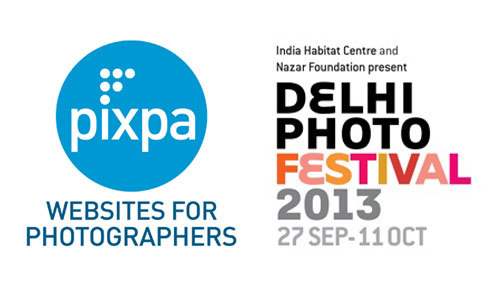 New Delhi, September 12, 2013: Pixpa (
www.pixpa.com
), the leading online presence solutions provider for photographers and artists, today announced its participation in the biennial Delhi Photo Festival (DPF) to be held from 27th September to 11th October. DPF is the largest festival of its kind in India and aspires to create a democratic platform for encouraging exchange of ideas and developing the art form. Pixpa is not only backing DPF as an associate sponsor but also intends ensure active participation through workshops and demonstrations.
"We are very happy and excited about our association with the Delhi Photo Festival", said Gurpreet Singh, the founder of Pixpa, "We had a great experience during the last festival and so we wanted to play a bigger role this time around". "The best part of being associated with DPF is that it allows us to closely interact with the genuine photographers and photography enthusiasts.", he added.
Dinesh Khanna, one of the organizers of the festival and a professional photographer himself, also expressed his satisfaction over the association with Pixpa, "We are glad to collaborate with Pixpa again and I think the unique and cost effective solutions of Pixpa will be beneficial for the photographers attending the festival".
Growing Your Photography Business Online: The Pixpa-DPF Workshop
Pixpa is not only coming on board as an associate sponsor for DPF but is also organizing a workshop regarding the on techniques of building an online business. The workshop will be conducted by Gurpreet Singh, Founder and CEO, Pixpa. The workshop would cover best practices on building and managing an online presence for your photography business including portfolio website, social media and search engine optimization.
Date and Time for the Workshop: September 29, 2013. 5 pm to 6 pm.
Venue: Gulmohar Hall, Convention Centre, India Habitat Centre, Lodhi Road, New Delhi.
Apart from the workshop, Pixpa will have a stall at the exhibition venue for the entire duration of the festival, so that people can watch live demonstrations and understand the offerings of Pixpa. More details regarding DPF can be found below,
http://www.delhiphotofestival.com/
About Pixpa
Pixpa is a Portfolio Websites design service for photographers, designers, architects, artists and other creative professionals to showcase, share and sell their work online with style and simplicity. Pixpa's Professional Portfolio Websites come with preset but customization designs, eCommerce capabilities, protected galleries as well as social media integration.
CONTACT INFORMATION