Rockland County Dentist Offers Help for TMD Sufferers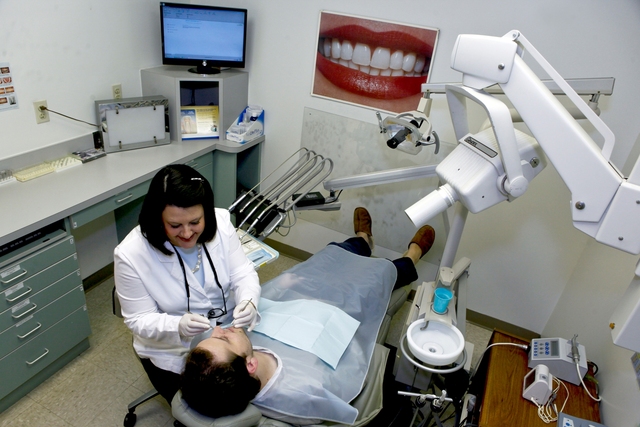 Barbara Ollech, DMD, from Dental Design of Rockland, offers comprehensive
temporomandibular joint (TMJ) treatments
at her Rockland County dental office. According to Dr. Ollech, temporomandibular joint dysfunction syndrome is a common condition characterized by headaches, variable jaw pain, intermittent ringing in the ears, and grinding teeth. Other common TMD symptoms include pain while chewing, clicking in the jaw, fatigue after eating, vertigo, and dizziness.
"Most TMD sufferers do not realize that dentists can effectively treat the root cause of these problems," Dr. Ollech said. "I use a combination of modalities that include advanced diagnostics, splint therapies as well as muscle treatment that includes micro current therapy, cold laser therapy and ultrasound therapy."
She uses advanced diagnostics tools such as Doppler/ultrasounds studies to detect and address any TMJ issues affecting the jaw joint. Once a thorough jaw and bite examination has taken place and a TMD diagnosis made, Dr. Ollech recommends the most appropriate treatment for the individual's condition.
"Effective TMJ treatments start with root cause analysis," Dr. Ollech said. "By identifying the cause of TMJ pain, whether it's a deteriorated or shifted disk at the joint, a pinched nerve, an unbalanced bite, excessive stress, or even poor posture, we can then create an effective TMJ management and treatment plan."
Dr. Ollech also said that symptoms of TMD are often wrongly attributed to other conditions by medical doctors. "It's always smart to get a second opinion. In the case of TMJ symptoms, it's smart to get that opinion from an experienced TMJ dentist."
About Dental Design of Rockland:
Dental Design of Rockland is led by Barbara L. Ollech, DMD. Now entering her twenty-fifth year of service, Dr. Ollech continues to provide compassionate and comprehensive dental care to patients of all ages in Rockland County, New York. Dental Design of Rockland offers a wide range of services including
: cosmetic dentistry
, laser therapy, restorations, orthodontics, implant restoration, oral surgery, TMJ and headache treatments, and more.
Dr. Ollech earned her Doctor of Dental Medicine degree in 1988 and continued her education through a series of fellowships and post-graduate programs, one of which focused on the evaluation of TMJ disorders, occlusion (bite), and muscle dysfunction. She learned advanced methods to address TMJ problems, allowing her to better diagnose and treat headaches, bite problems, and jaw pain. To learn more about Dr. Ollech or Dental Design of Rockland, please visit their website at
www.drollech.com.
Email Dental Design of Rockland