Mold & Moisture Solutions Helps Homeowners Prepare for "Mold Season"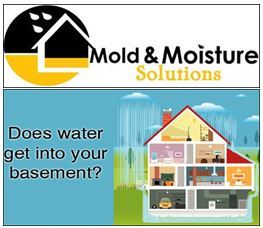 Catonsville, MD – Following the hot, humid summer days and summer showers, mold and mildew can begin to grow inside Maryland area homes. Now through January,
homeowners may notice a smell of mold and mildew in the home
or even see colonies begin to grow in corners of basements and bathrooms. Mold & Moisture Solutions, a leading mold removal specialist in the Maryland area is helping homeowners prepare for this "mold season" with effective solutions.
"Home inspections and basic maintenance are the first line of defense when it comes to dealing with mold and mildew," said David Stough, founder of Mold & Moisture Solutions. "Following the hot and humid Maryland summer, we encourage all homeowners to conduct a professional mold and mildew home inspection and check for any environmental hazards and pollutants in the home."
Mold and mildew most commonly occurs in areas where it cannot be seen like air ducts, attics, basements, or wall cavities. If this pollutant is detected, Mold & Moisture Solutions will remove visible and unseen mold and mildew throughout the house. Mold & Moisture Solution's technicians follow a rigorous five-step system for removing and preventing the growth of mold and mildew. Once all mold is removed, Mold & Moisture Solutions, will treat the area with a proprietary Electro-Static Shield or Stat-Control treatments that are guaranteed to keep mold and mildew away.
Recent studies and news reports have shown that mold and mildew can have a devastating effect on health. While some forms of mold and mildew are more dangerous than others, all cause structural damage and foul odors in the home. The remediation and protection processes implemented by Mold & Moisture Solutions can improve homeowners' health and the condition of their homes.
For more information about mold and mildew detection and removal, visit
http://www.moldandmoisturesolutions.com/
or call 877-277-Mold.
About Mold & Moisture Solutions:
While building his janitorial company, David Stough discovered a growing concern for his clients and their properties – on-going mold problems. Unfortunately, an immediate and cost-effective solution for treating mold problems was not available. Over the several years, Stough studied, researched, and attended many mold and mold related seminars. As a result of this dedication, he and the company earned multiple certifications from industry trade associations and national certifying entities.
Email Mold & Moisture Solutions