CarCaddy Auto Transport Announces a New Shipment Tracking System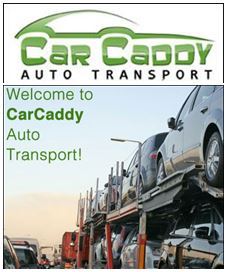 CarCaddy Auto Transport, a leading car shipping company, today unveiled a new shipment tracking tool on their website. Clients using CarCaddy to ship their vehicle anywhere in the country can now
see the exact geographical position of their car any time from any computer
. This is another way CarCaddy is providing clients with exceptional car shipping services – giving them convenience and peace of mind when shipping a vehicle.
The tracking form is located on the top right of every page on the CarCaddy Auto Transport website Clients can just enter their tracking number and click "Track Now." The page will display a map with a pin-point location of the vehicle at any given time. Users will also be able to see the vehicles past locations and the route it is currently taking. CarCaddy is the only car shipping broker to offer this proprietary service.
This vehicle shipment tracking service was designed in-house with the client in mind. CarCaddy Auto Transport wants to ensure that vehicle owners stay in control during the shipment process. Entrusting a valuable possession like a car to a third party for transportation is naturally a worrisome process. CarCaddy listened to clients and to ease some of these concerns, developed this accurate and on-demand tracking system.
From getting free quotes to tracking a shipment, CarCaddy is dedicated to making car shipping as simple and worry-free as possible. The company has received praise from customers, industry peers, and independent review sites. In addition to cars, CarCaddy specializes in shipping cars, trucks, and SUVs, boats, motorcycles and inoperable vehicles. CarCaddy is also proud to offer a 100 percent money back guarantee.
For more information about hassle-free car shipping and CarCaddy's proprietary tracking process, visit
www.carcaddyautotransport.com
.
About CarCaddy Auto Transport:
CarCaddy is a leading provider of nationwide services. Our mission is to provide safe and affordable vehicle moving services and the best customer service experience for our clients. Our vision is to change the way the industry does business by improving the customer service experience and increasing shipment visibility through technology such as our proprietary online shipment tracking system. Our focus is always on the customer, and this emphasis is reflected in our core values. We always strive to provide the best customer service, affordable services, and safe and reliable delivery.
Email CarCaddy Auto Transport