Porsche Customization Now Available at The Auto Gallery Porsche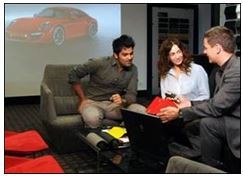 Woodland Hills, CA – The Auto Gallery Porsche, the popular Los Angeles Porsche dealer, has announced the addition of the Porsche Exclusive customization option now available through their dealership. The program is set to give
unprecedented customization capabilities to new Porsche buyers
, to maximize individual desires and needs. This comes as good news to Porsche enthusiasts in and around the greater Los Angeles area seeking an opportunity to personalize their new Porsche vehicle.
The Porsche Exclusive program is designed to deliver individual customization for both interior and exterior preferences, straight from the factory. To fulfill individual orders, Porsche utilizes a team of skilled craftsmen that build and upgrade features by hand using wholly high quality materials. Customers have the ability to choose from a large variety of options, to fit their aesthetic needs. The final product is a completely distinct vehicle, from the color of stitching to the use of materials such as carbon, stainless steel or chrome.
Recently, management from the Auto Gallery Porsche collaborated with consultant specialists from Porsche North America, to effectively integrate the Porsche Exclusive program into the Woodland Hills dealership. Their staff is fully trained and capable of helping customers meet their customization needs.
The Auto Gallery Porsche is excited to bring the customization capabilities of the Porsche Exclusive program to their customers in Southern California. As a leader among Porsche dealerships in Los Angeles, The Auto Gallery Porsche has worked hard for years to deliver the highest in vehicle quality and options to their clientele. They recommend interested parties visit their website to peruse their wide selection of new Porsche vehicles, or stop by their dealership today to speak face-to-face with a customization expert.
About The Auto Gallery Porsche:
For over a decade, The Auto Gallery Porsche has served Porsche enthusiasts from Beverly Hills, Santa Monica, Glendale, Pasadena, Thousand Oaks and areas throughout greater Los Angeles with high quality new and pre-owned Porsche vehicles. Located at 21301 Ventura Blvd. in Woodland Hills, their Porsche dealership offers an extensive showroom featuring the latest models, an advanced service department with a Gold Meister certified team of professional technicians, and a top rated Porsche parts department. In addition, they offer seasoned finance team dedicated to helping accommodate each customer's situation. For more information, visit
http://www.theautogalleryporsche.com/
or follow them on Google+, Facebook, Twitter, or YouTube.
Email The Auto Gallery Porsche