Sharper Cards Announces 20% OFF Sale on Personalized Calendars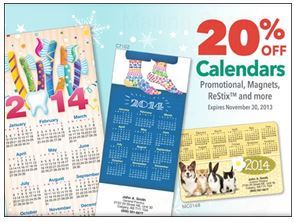 Calgary, AB – Brand new 2014 personalized calendar designs have arrived at Sharper Cards and from now until November 30, 2013, customers can enjoy an additional 20% OFF their order of any calendar products.
Personalized calendars are an excellent way for businesses to stay in front of their customers all year long. They are an important part of any marketing strategy and can be used in a variety of effective ways to enhance any campaign:
Replace reminder appointment reminders with Calendar cards
Send along with seasonal greeting cards during the holiday season
Announce a promotion or special event
Offer a variety of formats so customers can display them at home or in their workspace
"We really encourage all of our customers to stock up on their marketing calendars with this great promotion," said Maria Block, Marketing Manager of Sharper Cards. "Personalized calendars are a practical and nice gift that businesses can give their customers while also meeting their marketing goals."
All calendars are exclusively designed for Sharper Cards featuring fun and modern designs as well as seasonal and holiday. Paper format calendars are printed on premium card stock. Other options include ReStix™ calendars, magnets, tear-off cards, tri-folds, wall calendars and more. Customers can simply select a design and personalize it with their business name, phone number and contact information at no additional charge. Customers can also mix and match designs in lots of 50 and some are available for as low as $0.56 per piece.
To shop the latest 2014 calendar designs and enjoy 20% OFF until November 30, 2013, visit
sharpercards.com/calendars
.
About Sharper Cards:
Founded 28 years ago, Sharper Cards provides industry leading marketing solutions for all types of businesses. With over 40,000 customers worldwide, the company is a one-stop shop for quality marketing products to help businesses achieve their goals and maintain a professional image. With a commitment to excellence, Sharper Cards hopes to maintain its position as one of the leading marketing companies that specializes in personalized communication and promotional products. For more detail please visit,
http://sharpercards.com/
.