Refurbking Expands Selection of Energy Efficient Large Appliances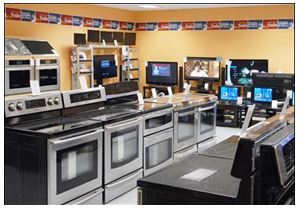 Elk Grove Village, IL – Refurbking, one of the leading retailers of new and refurbished home appliances, recently further
expanded its inventory of energy efficient large appliances
including stainless steel refrigerators, dishwashers and washing machines. The latest models of energy efficient large appliances have been shown to reduce energy and water consumption by as much as 30 percent. Over time, this adds up to a significant cost savings for homeowners and reduces environmental impacts.
Known for some of the most competitive prices in the industry and excellent products, Refurbking is the ideal place to find energy efficient large appliances. With the exceptional low prices on new and refurbished products, shoppers do not have to invest a great sum of money to reduce their energy bills and impact on the environment. Refurbking offers the latest energy efficient large appliances for hundreds of dollars below retail.
Customer service representatives are available and happy to help clients determine which appliances will serve their energy reduction goals, budget and needs. From dishwashers and washing machines that use less water to large refrigerators that use less power than small old refrigerators, Refurbking has an exceptional selection of products at as much as 50 percent below retail costs.
With their new energy efficient, large home appliances, homeowners will be able to see a reduction in their energy bill within the first month. Over a short period of time these energy efficient appliances can pay for themselves, and homeowners will also be pleased knowing they are also helping the environment.
About Refurbking
At Refurbking clients will find the best deals on the best name brands like LG, Zenith, Avista, and Goldstar. Combined with the company's outstanding customer service and discounts on name brand products, we strive to create a satisfying online shopping experience for you. For over 35 years, we have loyally served our local community with our low prices and excellent customer service. Through our web store, we pledge to provide the exact same service to our online customers as well. To shop for the latest large energy efficient home appliances, visit
www.refurbking.com
.