Life is full with magic - SeeBeforeYouDie.net just got a new look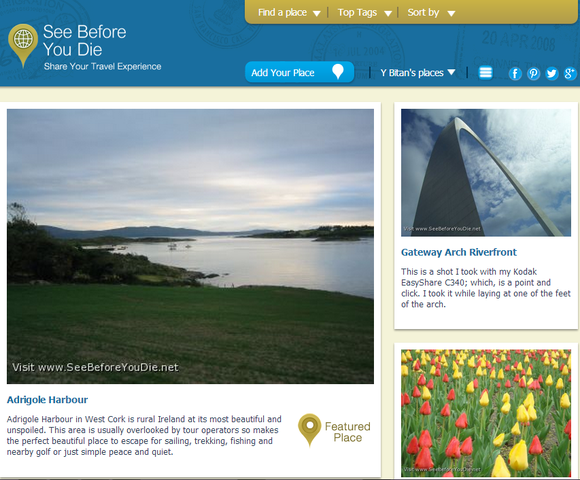 SeeBeforeYouDie.net
just got a new look. Now you can be inspired by the magic others chose to share, and share your magic moments with others.
Countless travel sites offer travel advice and booking services. SeeBeforeYouDie.com is different. We are here to help you be inspired, by others magic moments, mainly during travel, without commercial intervention. SeeBeforeYouDie.com is based purely on users' content. Therefore, we would like to collect as many of your magic moments, which you feel others will enjoy and appreciate. We provide a community tool that enables you to load your valuable images, publish it in the major social networks and allow others to adore it.
SeeBeforeYouDie.net is a Web site that presents collection of places around the world that were recommended and ranked by the site's visitors. SeeBeforeYouDie.net provides an open platform for people who love to travel around the world and want to share pictures and information about their favorite places with others. The site is a meeting place for those who are looking for places they must see in their next trip and for travelers who want to share their travel experience with others.
Established on December 2004, SeeBeforeYouDie.net was developed to enable users that want to share pictures and information about magic places they experienced. The site has simple and clear user interface, which makes it easy to navigate and operate.
Come see the places you must add to your next itinerary at
www.SeeBeforeYouDie.net