Eclipse Awards Proud to Announce the Awesome Awards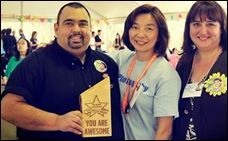 Vancouver, BC - Eclipse Awards, the world's
leading supplier of personalized recognition awards
, is celebrating its 15th anniversary with a unique new recognition program called The Awesome Awards. This inaugural program is unique because it recognizes ordinary people for being awesome, and then has the winners pay it forward and choose who wins next.
As leaders in the recognition industry, Eclipse Awards wanted to find a unique way to celebrate fifteen years of success, and so the Awesome Awards were born. This program aims to build stronger communities by actively appreciating the unsung heroes that make each community a little more awesome. By having each winner then turn around and choose new winners within eight weeks of receiving the award, the Awesome Awards perpetuates the positive recognition and appreciation of others.
Nominations are free and open to anyone. As for Eclipse Awards, the company has secured its position in the industry by offering unmatched quality in corporate awards, recognition awards, sports awards, as well as customized gifts and promotional items. It also offers personalization and professional graphic design support. According to a company spokesperson, "Recognition is one of the most powerful ways to let others know they are appreciated, which is why we're passionate about creating awards that tell people they're awesome."
About Eclipse Awards
Since 1998, Eclipse Awards has worked tirelessly to bring fresh ideas, high quality standards, and reliable service to the recognition industry. While the company provides a huge and impressive selection of recognition awards, it is also committed to sustainability and minimizing its footprint on the environment. From its great products to its legendary customer service, Eclipse Awards has earned its reputation as a leader among recognition award makers. For additional information please visit,
www.eclipseawards.com
.
Email Eclipse Awards International Inc.