New DynaClean Conveyor to Be Introduced at PackExpo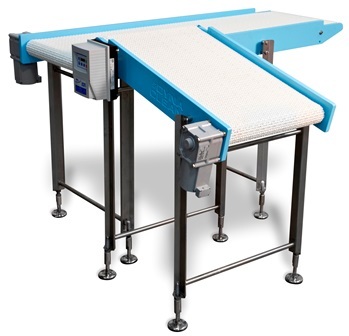 The new DynaClean transfer conveyor is designed for short transfers of food products in or out of food processing equipment. This new conveyor has a reduced conveyor profile, which allows the conveyor to get into tight spaces and close to equipment or machinery. The conveyors are designed to move product horizontally or at a slight angle on plastic link-style belting.
Manufactured using HDPE, UHMW and minimal 304 stainless-steel allows DynaClean food grade conveyor systems to be competitively priced in the food processing market. HPDE is a durable plastic material approved by the FDA, USDA and NSF and is used to manufacture the food grade conveyor sidewalls. Being corrosion resistant, non-toxic, non-absorbent, temperature resistant, blue in color, and less costly than stainless steel makes the HDPE material an ideal choice.
The conveyor design allows for quick and easy cleaning and sanitation. Without the need for tools, the conveyor belt can be removed in a matter of seconds giving complete exposure to the inside of the system. The systems include stand-offs and one-dimensional leg supports which eliminate hidden build-up of bacteria.
The food grade conveyor operates with either variable or single speed sealed motors that are hygienic, high pressure wash-down, energy-efficient and maintenance-free. A variety of modular plastic link style belting options are available. Belts are specified to meet the needs of wet, dry or sticky foods.
In Muskegon, Michigan, Dynamic Conveyor has been a source of innovative custom conveyors since 1991. In 2011 Dynamic Conveyor introduced its DynaClean line of conveyors to the food processing and packaging industry.
For more information and a closer look at DynaClean conveyor systems, including the new transfer conveyor, please visit Booth #3119 at Pack Expo. After the show, call 1.800.640.6850 or visit
www.DynamicConveyor.com
for more information and to view videos.
Email DynaClean Conveyors