Wattco Announces New Petrochemical Projects Assistance Program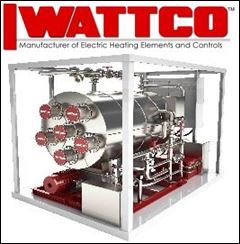 Fairfield, CA - Electrical heating and control manufacturer Wattco has announced plans for a new research and development initiative. The Petrochemical Projects Assistance Program would allow universities who register to receive heating products such as a tankless water heater, free of charge. These institutions would also have access to free consultation. The initiative is designed to help
promote research into more efficient methods of heating
within the oil and gas industry. Funds for the initiative are made possible through federal and local tax credits available for businesses in the energy sector.
Due to the sensitive nature of petrochemicals products, they often require heating to maintain the proper viscosity and temperature necessary for their different applications. The oil and gas industry relies on electrical heaters for their ability to withstand heat, accurate temperature control, and reduced in-plant emissions. Immersion heaters are used inside large petrochemical tanks, while circulation heaters are used for heating mediums that have very specific temperature requirements. In addition, oil heaters are used to separate particles of sand from crude oil.
These are only a few of the products that universities would have access to should they be accepted into the program. Wattco is hopeful that these institutions will help to discover new clean energy heating solutions, while improving on existing ones. Currently, Wattco recommends using a thermocouple or RTD (Resistance Temperature Detector), in conjunction with a flanged heater , to allow substances to reach the desired temperature more efficiently. Wattco stresses that it is not only the heaters themselves, but the controls for these devices that create better results.
Headlining this initiative is Mr. Jean-Francois Bond, a leading mechanical and chemical engineer. As part of the Wattco research and development team, Mr. Bond specializes in trying to make large scale industrial processes more energy efficient. With degrees from Princeton and McGill University, he is a leading expert in petrochemical and oil processing systems that use industrial heating elements and controls. Please feel free to contact Wattco for a free consultation.
About Wattco:
Since 1969 Wattco has been a leader in the manufacturing of industrial heating products such as immersion heaters, tankless water heaters, oil heaters, as well the control systems for these devices. In addition to oil and gas, Wattco has implemented their products into a large array of industries including nuclear, mining, biodiesel, and the military. Currently they serve over 1000 customers in North America alone. All of Wattco's products meet industry standards of both the UL (Underwriters Laboratories) and CSA (Canadian Standards Association). They guarantee customers the lowest prices and speedy delivery. For additional information please visit,
www.wattco.com
.