Raleigh Web Design Company Launches New Law Firm Website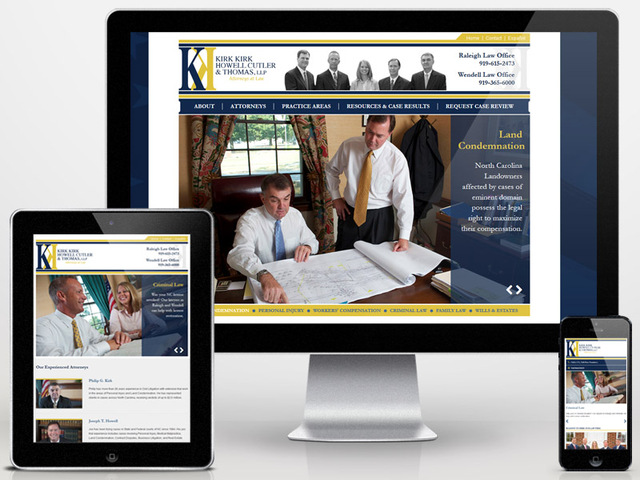 TheeDesign Studio, a
Raleigh web design
and internet marketing company, is excited to announce the launch of a newly designed responsive design website for the law firm Kirk, Kirk, Howell, Cutler & Thomas, LLP.
As usage of mobile devices increases, so does the need for responsive capabilities.
Responsive web design
is a form of advanced web design that anticipates and responds to the screen size on which it is being displayed so that a website can display beautifully across any device including smartphones, iPads, and laptops.
The lawyers at Kirk, Kirk, Howell, Cutler & Thomas recognized that more and more of their clients were browsing the web and finding their legal services through mobile devices, so they wanted to make sure their website would be accessible on smartphones and tablets, as well as optimized for mobile search. So they contacted the award-winning web design company, TheeDesign Studio, to help them with a website redesign.
The new law firm website is designed for streamlined navigation across all mobile devices. The site's homepage, company information, legal services, blog and contact information are easy to use. The new contact form proves particularly useful as it helps generate quality leads. The updated "Contact Form" and "Request Case Review" save time and simplify the administrative processes. The improved user experience also helps to bring in new business.
TheeDesign Studio will also be managing the
Raleigh law firm
's internet marketing each month, including legal SEO, Google AdWords campaign management, and various social media updates.
About Kirk, Kirk, Howell, Cutler & Thomas
The Law Firm of Kirk, Kirk, Howell, Cutler & Thomas is a team of experienced personal injury lawyers, divorce attorneys, and land condemnation lawyers in Raleigh and Wendell, NC. Every partner of Kirk, Kirk, Howell, Cutler & Thomas is an exceptional lawyer and a proud member of the community. Clients can feel both confident and at ease when working with members of the firm. Learn more at
http://www.KirkKirkLaw.com
About TheeDesign Studio
TheeDesign Studio is an award-winning web design and internet marketing agency in Raleigh, NC. The team specializes in creating websites for businesses that incorporate content management systems, search engine optimization, and internet marketing. For more information, please call 919-341-8901 or visit
http://www.TheeDesign.com