Studio City Dental Group Offers to Visit Elementary Schools to Promote Good Pediatric Dental Health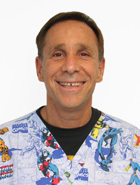 Studio City Dental Group offers to visit elementary schools in Studio City, CA for the purpose of promoting good pediatric dental health. They are offering to talk to local area students about proper oral hygiene routines during the upcoming Fall season.
"We invite interested school administrators to contact us now, so that we can get them into our Fall schedule," stated Dr. Jonathan Gidan, a
pediatric dentist
at Studio City Dental Group. "The importance of addressing good oral hygiene with children cannot be understated. Childhood gum disease is preventable, but it is more common than we would like to see," explained Dr. Gidan.
When the staff of the pediatric department of the practice visits elementary schools, they bring along with them an oversized toothbrush and stuffed toys with teeth. They use these props to create an enjoyable, easy-to-understand demonstration for the kids. In addition to talking to the children to explain the importance of starting good oral hygiene practices early in life, the practice provides goody bags and toothbrushes for each child.
Dr. Gidan has been actively volunteering in the community for several years, donating free dental examinations, teeth cleanings, and certificates for free x-rays to children in need at Laurel Hall School as well as other local schools. In a continuing effort to stress the importance of good oral hygiene for overall well-being, he also donates toothbrushes, toothpaste, and dental floss to area charities.
Dr. Gidan and Dr. Marvin Rosenberg, orthodontist at Studio City Dental Group, are offering a Fall Special for new patients that includes a dental examination, cleaning with topical fluoride, necessary x-rays, as well as a clinical orthodontic examination. This special offering is valid for children up to age 12 for $25.00 and ends October 30, 2013.
About Studio City Dental Group:
Dr. Gidan received his pediatric dentistry training at the University of Southern California, and Dr. Rosenberg accomplished his training in
orthodontics
at Loyola University of Chicago along with a pediatric specialty degree from UCLA. They have been practicing in the San Fernando Valley and Los Angeles area since the early 1980s.
Studio City Dental Group (SCDG) has provided a comprehensive array of dental services to children, adolescents, and young adults, including exams, cleanings, sealants, fluoride treatments, fillings, and orthodontic treatments to the greater Los Angeles area since 1956. SCDG strives to deliver quality dental services aimed at helping their patients achieve optimal oral health.
Email Studio City Dental Group