New Apple Cookbook Delivers Delicious Fall Recipes for Kids and Grown-Ups - See How Apple Pie Just Got Healthier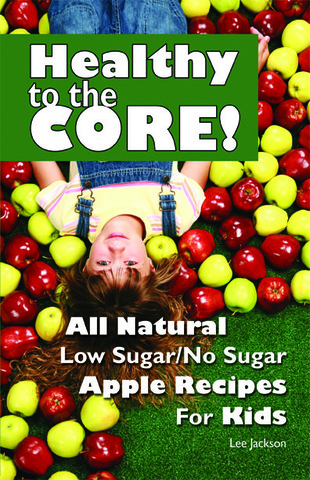 What's more American than apple pie? Although our country's apple varieties originated from European stock; this patriotic connection has been used to symbolize prosperity and national pride. Apple pie fits this description well and continues to be one of the best-loved desserts of all time. Now it comes in a 'New and Improved' variety.
Healthy to the Core! All-Natural Low Sugar, No Sugar Apple Recipes for Kids by Lee Jackson is a new apple cookbook for kids and teens filled with over 70 recipes bursting with pure (low sugar, no sugar, no-refined flour) goodness. With the growing concern of obesity in our country, especially in children, this cookbook addresses healthier practices when preparing apples, all while enjoying their natural flavors.
When working with apple recipes, the author was aware of the large amounts of sugar and flours often found in baked products. Then she considered, "Why can't these recipes be made with natural sweeteners and healthier kinds of flours and oils?" That is why she went on a mission of creating healthier recipes for apple dishes. This cookbook shows the results, along with suggestions and preferred kinds of products to use.
Jackson firmly believes food affects the way a person looks and feels. Through study and research, she developed a ten point program for improving the health of kids and their families. From this list she concentrates on what she calls The Big Four: avoid refined sugar, avoid white flour, avoid GMO products, and use healthy cooking oil. She incorporates these practices into the recipes, all while combining good nutrition with great taste.
There are delicious apple recipes for every season and occasion. Kids learn to make snacks such as apple chips and apple roll-ups; they can munch on apple leather, sample apples in breads, salads, main dishes, desserts, and learn how to make applesauce and sugar free apple pie. They'll learn which apple varieties to use with what kind of recipes. Through short vignettes throughout the book, kids meet Johnny Appleseed and Isaac Newton and learn how apples impacted the history of America.
Jackson is passionate about children eating healthy and living a healthy life-style. She has been a long-time family and consumer sciences teacher, focusing on foods and nutrition. She is the author of 4 award-winning books, two of which are apple cookbooks. Her healthy eating websites include
http://www.cookingandkids.com/blog
and
http://healthykidseatingtips.com.
The apple cookbook, Healthy to the Core! All-Natural, Low Sugar, No Sugar Apple Recipes is $14.95 and can be found at select bookstores and libraries and from the publisher's website:
http://www.imagesunlimitedpublishing.com
Email Images Unlimited Publishing