Brakes Plus Opens New Store in Lincoln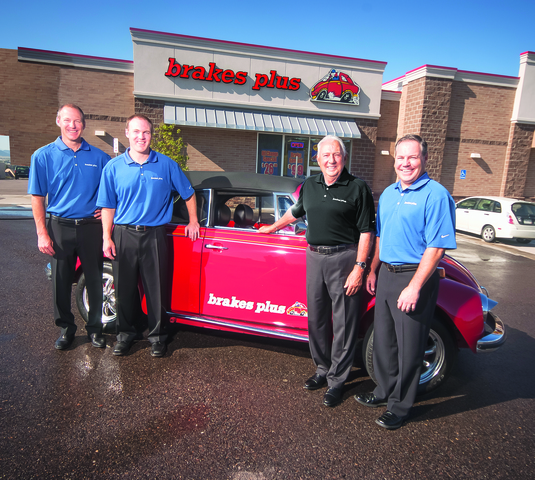 Brakes Plus
is excited to announce the opening of its newest store in Lincoln, Nebraska on Friday, September 27, 2013. Their new location can be found at 222 N. 48th St., Unit B.
The
Lincoln Brakes Plus
store is located on 48th & O St. As always, they offer the latest in automotive care, state-of-the-art equipment, and a staff dedicated to excellence in customer service.
Originating in Centennial, CO, Chairman Larry Pisciotta and his three sons have continued to expand the Brakes Plus business by providing customers with value, quality products, and a positive experience each and every time they visit. Over the past 23 years, Brakes Plus has grown from 1 to 65 locations, in 6 states. Every one of their stores are family owned and operated, not franchises. Sustained growth can only be accomplished by hiring quality professionals, establishing personal customer relationships, and supplying every store with the best and most updated resources and equipment. Brakes Plus' commitment is reflected in the clean, modern facilities for their customers' comfort and convenience.
Regional Manager Ronald McDermott has more than 20 years of experience in the automotive industry. In his four years with Brakes Plus, he's noticed that the company works hard to go above and beyond when it comes to offering their customers a great value on Lincoln brakes.
"I couldn't be more excited about the new store at 222 N. 48th Street," says McDermott, "Not only is the store brand new, but we're all committed to working diligently on earning the trust of our customers now and into the future."
The emphasis on building customer trust through excellent service is a tradition started by Pisciotta. Brakes Plus clearly displays their pricing, provides a free estimate before any work is done, and also provides the convenience of a free shuttle service and free WiFi in every store. Pisciotta believes that this type of exceptional service is what has set the company apart from other automotive services. It has also played a large role in the company's success.
The new Brakes Plus store is located on 48th & O Street. Come see their newest Lincoln car service location for their Grand Opening on Friday, September 27, 2013.
About Brakes Plus
Brakes Plus
are the experts in brakes, and also offer complete automotive service, plus maintenance. They have certified technicians and top-of-the-line equipment in every store. Services offered include air conditioning, air filters, alignments, alternators, axles, batteries, belts & hoses, cabin filters, clutches, coolant exchange, CV boots, diagnostics, differential services, engine repair, exhaust, fuel filters, fuel injection, headlamps/bulbs, mileage maintenance packages, oil changes, power steering flush, radiators, shocks & struts, starters, steering, suspension, timing belts, transfer case, transmission services, tune ups, water pumps, and wiper blades. Brakes Plus is your one-stop shop for ALL of your automotive needs.
In addition to the new Lincoln location, Brakes Plus operates 36 store locations throughout the state of Colorado, 14 in Phoenix, 10 in Dallas, 5 in Omaha/Council Bluffs, and 1 in Cheyenne. Brakes Plus looks forward to servicing all your automotive needs. Visit brakesplus.com for maps of locations and money savings coupons.