Nelson Family Dental Offers Facial Esthetic Treatments to Complement Dental Services at Attleboro Dentist Office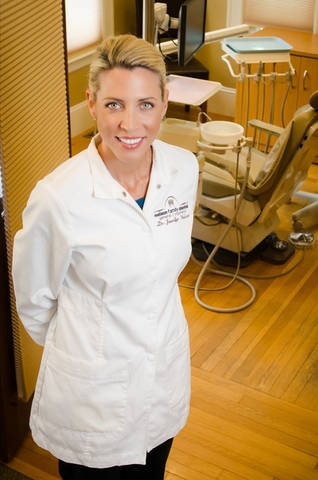 Facial esthetic
services are a group of non-invasive interventions performed to enhance the appearance of the face. Typically, these types of treatments are performed in the offices of plastic surgeons and dermatologists. As a result, many people who could benefit from facial esthetic procedures never learn about the advantages of treatment, and may turn to more invasive cosmetic surgery or less-effective topical skin care products to address skin imperfections around the mouth.
Dr. Nelson received advanced training in facial esthetics from the American Academy of Facial Esthetics in order to expand the scope of her cosmetic treatment options and include interventions that improve the appearance of the mouth and the lips, in addition to the gums and teeth.
The facial esthetics services offered at Nelson Family Dental include Botox®, Juvéderm® and Radiesse®. Botox injections decrease contractions in the muscles, smoothing wrinkles that develop around the mouth. Juvéderm and Radiesse are filler injections, which decrease the depth of wrinkles and can be used to plump the lip tissue. All three types of facial esthetic treatments are in high demand throughout the United States. More than 5.5 million men and women receive Botox injections each year, and the number of filler injections like Juvéderm and Rediese given in the U.S. annually is nearly 1.9 million. By offering facial esthetic services in the comfort of a dentis's office, Dr. Nelson makes these highly effective procedures accessible to more people.
Dr. Nelson offers facial esthetic treatments both as a part of
cosmetic dentistry procedures
and as individual services. Often times, Botox and filler injections are performed as a part of a complete smile makeover, which can include crowns, veneers, whitening and laser contouring for the gum line. Those who wish to learn more about Dr. Nelson's facial esthetic services should contact Nelson Family Dental in Attleboro to schedule a consultation.
About Nelson Family Dental and Dr. Jennifer L. Nelson:
Nelson Family Dental is a full service dental practice located in Attleboro, Massachusetts. The practice offers a complete range of services including cleanings, check-ups, dental implants, porcelain overlays, crowns, teeth whitening, dentures, fixed bridges and root canals as well as facial esthetic services, such as Botox, Juvéderm and Radiesse injections. For the last three years, the practice was named "Best in Attleboro" by the local Sun Chronicle newspaper.
Dr. Jennifer L. Nelson graduated from the University of Louisville in Kentucky with a Doctorate of Dental Medicine Degree in 2004. She spent one year working in her father's dental practice and then opened Nelson Family Dental in 2005. She has received advanced training in the use of Botox and filler injections from the American Academy of Facial Esthetics, and she currently serves as a mentor to other dentists who wish to add facial esthetic services to their own practices. Because of her professionalism and accomplishments in the field, Dr. Nelson was previously named one of the "Ten under Ten" by the Massachusetts Dental Society, a prestigious award reserved only for practicing dentists who have been out of school for less than 10 years, but are already making significant contributions to dental science.
Email Nelson Family Dental, PC