Lighting Pros 360 Announces Showroom Grand Opening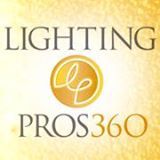 Catskill, NY
- Lighting Pros 360, popular lighting and design experts, have announced the grand opening of their new showroom in beautiful historic Catskill, New York. The unveiling will display some of today's
most desired solutions in lighting design, including premier chandeliers, wall sconces, lamps and more
. This comes as good news to anyone seeking high quality lighting and design to illuminate their homes or spaces.
Owners and designers Barbara Boyd and Bradford Ellis will host the opening and reception event. Attendees will be treated to cocktails, hors d'oeuvres and a unique opportunity for conversation with the well sought after designers. Participants will also have an opportunity to utilize the Lighting Pros 360 Grand Opening Discount on their purchases of fine lighting.
People unable to attend the event in person can take advantage of the discount online at their website
www.lightingpros360.com
by entering the coupon code "GOS2013" during the checkout process.
Lighting Pros 360 are industry experts. As long time professionals, they specialize in fine lighting design for every application. They have gained much critical acclaim throughout the country and beyond for their special attention to detail and devotion to meeting their client's needs. They have a trade division for their professional clientele to help facilitate all their lighting projects. They are known throughout the industry for having their "finger on the pulse" of fine lighting and design by offering clients more than mere lamps, but for creatively crafting the appropriate "mood" for a room.
The new showroom is set to be the brick and mortar compliment to their popular website, which features a wide selection of lighting solutions from some of the most important brands in the industry today. Lighting Pros 360 recommends interested parties attend their upcoming special grand opening and reception event, or to visit their website today to peruse their large variety of high quality lighting styles and options.
The Lighting Pros 360 Grand Opening is slated for October 2nd, 2013 at 6pm, located at 365 Main St. in Catskill, NY 12414. Call 518-943-2222 for more details.
About Lighting Pros 360
Lighting Pros 360 is a leading online source of high quality lighting & home decor. They offer a wide selection of premier chandeliers, sconces, lamps, outdoor lights, ceiling fans and more. They supply a large variety of styles from trusted brand names. Through their website, shoppers can utilize coupons, hot buys, free shipping on most items over $49, and their low price 110% price match guarantee. For more information visit
www.lightingpros360.com
or call 800.991.0284 to speak to one of their lighting specialists.