Peacock Data responds to website users with October Surprise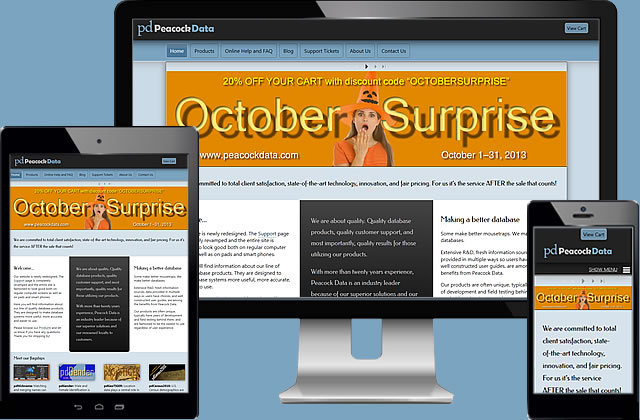 West coast database developers Peacock Data introduced a
new website
today featuring a design that responds to the device it is viewed on. Site visitors gain an enhanced browsing experience regardless of the size of their screen. To promote its updated internet presence, the company is offering a 20 percent discount on all online purchases during the month of October.
According to the company webmaster, "The new website adapts the layout to the viewing environment by using fluid, proportion-based grids and flexible images. Viewers on large screens will see multiple columns and full-size images, but smart phone users will see smaller images and content in a single column for easy browsing."
In addition to the new design, the website update also showcases a revamped support and F&Q section, and database orders are now available as immediate downloads after purchase.
Akin to the main website, the company's
blog
has inherited the same responsive design features. Blog@PeacockData is intended to communicate about all aspects of database management. There you can read about related topics and issues, learn from guest bloggers, and explore new and time-honored solutions as well as collect tips and advice.
"The changes at our websites reflect our long-standing commitment to our customers," the company CEO explained. "We are responding to their needs and the requirements of a changing online community."
The 20 percent October Surprise markdown is available October 1, 2013 through October 31, 2013 on all online purchases simply by entering the discount code "OCTOBERSURPRISE" in the checkout cart.
About Peacock Data
Peacock Data are the makers of
database products
used by business, organizations, churches, schools, researchers, and government. Their flagship offerings include: pdNickname, a highly-regarded name and nickname product; pdGender, a gender coding database; pdGeoTIGER, a precision ZIP+4 and address range geocoding package; and pdCensus2010, with demographic data drawn from 2010 American census tabulations.
The company's newest product is another demographics offering unveiled in May. pdACS2013 provides American Community Survey (ACS) estimates gathered from the U.S. Census Bureau and summarized at over 100 stratification levels.
In late December the group will release the long-awaited pdLatino package. It combines a Hispanic/Latino name and nickname database, a gender coding file, and surname information. The product has been in development for five years and just passed a one-year milestone in field testing.
Peacock Data is a California-based company in business since 2003.