Holland Bloorview will mark World CP Day, October 2nd, by connecting kids with CP around Canada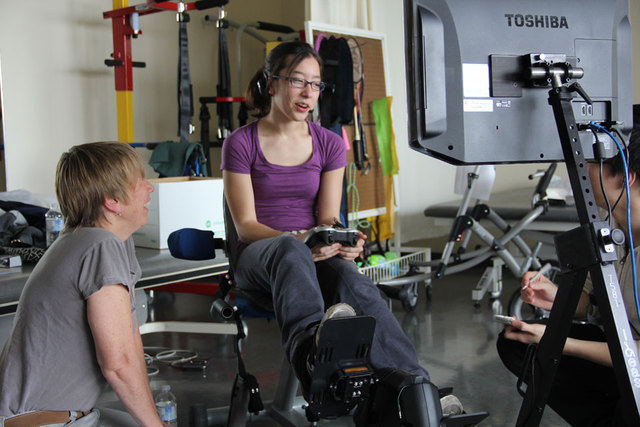 Toronto, ON (October 1, 2013):
Holland Bloorview Kids Rehabilitation Hospital thrilled to announce a World CP Day event on October 2nd, happening simultaneously across Canada in Vancouver and Toronto. The event will be a demonstration of Dr. Darcy Fehlings's and Dr. Nick Graham's Exergames technology, part of the Cycle to Fun project combining exercise bikes and virtual video games to motivate kids with cerebral palsy to exercise while gaming.
The live demonstration event will connect two Exergamers, one in Vancouver at the NeuroDevNet conference, the other in Toronto at Holland Bloorview, pedaling and playing together real-time through the virtual system.
World CP Day
Holland Bloorview is proud to support World CP Day, a global project to bring awareness to cerebral palsy and change the world for those living with CP and their families. The non-profit cerebral palsy charities supporting the day send out a call for ideas from people around the world, and work to make the best of those ideas a reality. Find out more about World CP day at
www.worldcpday.org
.
Exergames
With funding from NeuroDevNet and GRAND, two Canadian Networks of Centres of Excellence, Bloorview Research Institute scientist Dr. Fehlings and Queen University professor Dr. Nick Graham co-lead the Cycle to Fun project to encourage kids with cerebral palsy (CP) to exercise and virtually connect with their peers using the Exergames bikes.
The multidisciplinary group, co-led by Dr. Darcy Fehlings, a Developmental Paediatrician from Holland Bloorview and Professor Nick Graham, a computer scientist from Queen's University in Kingston, explores how virtual world video games can be powered by exercise bikes and encourage kids with CP to "pedal to play." The Cycle to Fun project also delivers a great side benefit - increased social connections. The video game is a multi-player community gaming experience, so kids talk on headsets and make friends through the program. Players can log into the game and pedal and play together, getting their therapy done while making friends.
Participating teens also became key partners on the Cycle-to-Fun research team, offering insight into the design of the exercise bikes, the game architecture, and the user experience. Lara Wong, a teen participant says "we wanted to make a game with adventure and competition. We've made a lot of changes, but the newest version is turning out to be pretty fun."
With this generous support from NeuroDevNet and GRAND, Dr. Fehlings at the CP Discovery Lab and Dr. Graham at the EQUIS Lab at Queen's are identifying opportunities for virtual world games to help engage youth with CP. "Using virtual gaming to motivate kids and teens with CP, especially during the pivotal time when children are transitioning into their teens and commonly experience loss of function due, in part, to poor physical fitness, is a great new application of the science," says Dr. Fehlings.
Holland Bloorview Kids Rehabilitation Hospital
Holland Bloorview is Canada's largest children's rehabilitation hospital, fully affiliated with the University of Toronto. We pioneer treatments, technologies, therapies and real-world programs that give children with disabilities the tools to participate fully in life. Every year, we see about 7,000 children with about 600 inpatient admissions and 58,000 outpatient visits. Located onsite, the Bloorview Research Institute is the only hospital-embedded pediatric rehabilitation institute in Canada. Established in 2004, the internationally recognized Bloorview Research Institute is dedicated to improving the lives of children with disabilities through client and family-centred rehabilitation research.
NeuroDevNet
NeuroDevNet is a Canadian Network Centre of Excellence dedicated to helping children overcome neurodevelopmental disorders. As the first trans-Canada initiative dedicated to studying children's brain development from both basic and clinical perspectives, our vision is to accelerate the pace of understanding the causes of neurological deficits, with an initial focus on autism spectrum disorder, fetal alcohol spectrum disorder and cerebral palsy.
Media Contacts:
Claire Florentin, Holland Bloorview Kids Rehabilitation Hospital
416.425.6220 x 3497 |
cflorentin@hollandbloorview.ca
Bethany Becker, NeuroDevNet
604.875.2424 x 4672 |
bbecker@neurodevnet.ca
Email Holland Bloorview Kids Rehabilitation Hospital